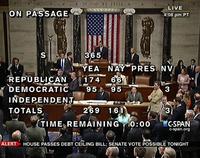 The U.S. House has approved the compromise deal to avert a debt ceiling crisis. 174 Republicans and 95 Democrats voted in favor.
Reps. David Wu, Greg Walden, and Kurt Schrader voted yes. Reps. Earl Blumenauer, Peter DeFazio voted no. Here's the full roll call of the ayes and nays.
The Oregonian's politics twitter reporter (whoever it is) noted this from Peter DeFazio:
Defazio says debt deal bill cuts investments in transportation and education. "It won't put a single person to work."
In a surprise, Rep. Gabby Giffords returned to cast a vote in favor of the deal. Here's her tweet:
The #Capitol looks beautiful and I am honored to be at work tonight.
Senator Harry Reid has announced that the Senate vote will happen at 9 a.m. PST on Tuesday.
No word yet on when Rep. David Wu will make his resignation official.
Stay tuned as this post is updated.