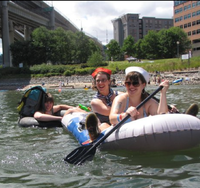 On Sunday a thousand people played in the Willamette River in downtown Portland. Hipsters with hangovers joined retired folks, and families joined longtime river rats, all paddling the short distance across the river on inner tubes, canoes, kayaks, inflatable mattresses, or – my favorite – a kinetic sculpture of Zorba the Zuke.
The event was The Big Float, a fundraiser for Willamette Riverkeeper and a public relations effort to get people to change how we think about the Willamette River. The river has a long history as a dumping ground for industrial waste and household sewage, a place of agricultural run-offs and deformed fish. For most Portlanders, the Willamette has been something to experience from bridges, to see in photographs, and to divide the city into its quadrants.
Yet thanks to years of work and a huge amount of money from sewer ratepayers, the Willamette River is now mostly safe to swim in. The joy witnessed yesterday is testament to the possibilities of river-as-gathering place, of the river as an asset to the city's recreational needs, instead of simply a natural sewer. There's real value in getting people playing outside – active living is critical to fighting the obesity crisis, and sharing public space builds community and an ethos of shared responsibility for our natural environment.
State Representative and Portland City Council candidate Mary Nolan was on hand, noting the event would have been unimaginable twenty years ago. A former director of Portland's Bureau of Environmental Services, Nolan has worked to clean up the Willamette for the past two decades, including convening a coalition of environmentalists, ratepayers, businesses and neighborhood activists to create the city's Clean Rivers Program.
My thanks go out to the conservation advocates, elected officials, public employees, construction workers, and residents of Portland who made the float yesterday possible. You've earned a day in the river. Get to it.