Thursday was the first day that candidates could formally file the paperwork to become candidates for office in the May primary.
In a sunny downtown plaza, before at least 150 supporters, Eileen Brady kicked off her campaign for mayor. Others will do the news coverage (and you can read her speech here), but I've got a couple of thoughts.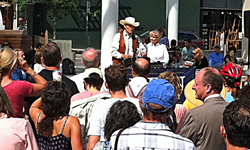 As the Portland Mercury noted, "the kickoff had everything a political event in Portland needs: The candidate, a guy in a cowboy hat, and a lone person protesting 'blatantly capitalistic candidates'".
The guy in the cowboy hat was Doc Hatfield, one of the founders of the Oregon Country Beef co-op. Speaking to the crowd, he noted that it might be the first time an Eastern Oregon cattle rancher has ever introduced a candidate for mayor of Portland.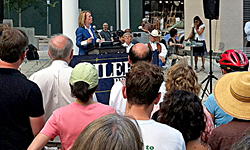 But Hatfield made an important point while eliciting a big laugh: He noted that most cattle ranchers are politically conservative and religious people who don't have much use for Portland's urban liberals. Except that we urbanites are the primary customers for the sort of naturally-raised, locally-sourced, sustaintable beef that they're selling.
The mayor of Portland wears a lot of hats. And one of them is to be the ambassador for our city to the rest of the state (and beyond). If we're going to solve the urban/rural divide in Oregon, which underpins so much of the political conflict we face, we need a mayor that has an intuitive understanding of the economic interconnectedness of Oregon. And based on Doc Hatfield's testimony, Eileen Brady looks to be on target.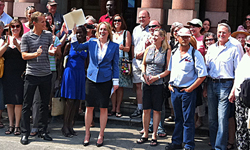 Anyway, the formal purpose of the campaign event was to walk down to City Hall and file her paperwork. As former state representative Nick Kahl noted, there are two ways to file for city office in Portland. You can pay a filing fee, or you can collect a hundred signatures from qualified voters. Well, Eileen Brady went well beyond a hundred - turning in over 300 signatures from Portland voters.
There are lots of ways to run and win campaigns. But the way I like doing it - and the way that Eileen Brady is doing it - is to build a huge grassroots campaign that puts regular people at the center of the campaign, rather than big checks from well-connected donors.
We may not have voter-owned elections in Portland anymore (and Eileen and Brian Rohter, her husband, were a big part of the campaign to defend it last year), but the Eileen for Mayor campaign will certainly be owned by the grassroots.