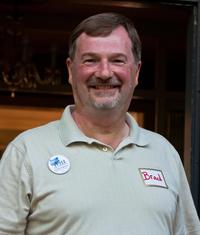 Brad Witt was the second Democrat to announce his plans to run for the First Congressional District seat which currently stands open with the departure of David Wu. Witt has represented Oregon House District 31, which is mostly engulfed by Columbia County. This likely explains why the house party being held for Witt on the afternoon of our interview was on a beautiful holly farm on the outskirts of St Helens. I joined his campaign toward the end of the event and sat down with Witt as it wrapped up.
Witt was raised on the east coast and received his Bachelor's Degree in History at the University of Massachusetts in the mid-70s. He put himself through school working in sawmills, graduating in the middle of a recession in the east. The recession made it difficult to find stable employment where he lived. As a result, he chose to relocate to Eugene to work on his Master's Degree in Labor Relations at the University of Oregon, all the while working in the local timber industry to pay for school. After completing his Master's, Witt took a brief stint as an intern with the national AFL-CIO. Then Witt moved back to Oregon. After working as an economist with the Pacific NW Labor College, he became a research director for the Western Council of Industrial Workers. He later worked for the United Food & Commercial Workers and then went on to be the secretary/treasurer for the Oregon AFL-CIO.
In 2005, then State Representative Betsy Johnson was appointed to the Oregon Senate. Witt ran successfully for that seat, and has represented the district ever since. I asked Witt which of his many jobs he enjoyed the most and why. Witt replied, "I liked different jobs for different reasons. Each job piqued different interests that I have. I always enjoyed working as a union rep with the members and the mental challenge of being a researcher." Witt said that his time as a State Representative has been an honor and exceedingly rewarding. All of these jobs, Witt says, have given him an opportunity to make a difference.
I then asked Witt to discuss some of his policy positions. We began with the recently debated debt ceiling negotiations.
"We have to become serious about reducing our nation's debt load. At best its unsustainable. At worst it threatens to undermine our economy nationally, and world stability." Witt went on to say that he believes President Obama's target revenue increase and spending reductions were the right mix: 2/3 spending reductions and 1/3 revenue increase. I asked Witt what revenue increases would look like, but Witt wanted to address spending first. "If you look at the two largest outlays we're facing, these make little sense. First, military spending. We need to wind down the wars in Iraq and Afghanistan and bring the troops home expeditiously." Witt said we also need to address Social Security and Medicare. "With respect to Social Security we could make that system sustainable very quickly without reducing benefits by raising the funding ceiling. As it is right now, that system taxes everyone in the middle class fairly. But those who make over $106,000 per year are not paying their fair share." On Medicare, Witt blames President Bush's failure to allow the program to negotiate prescription drug prices. When I pressed him on the revenue side, Witt says he believes that the Social Security and Medicare changes would solve that problem along with "judicious spending decisions". I asked about the allowing the Bush tax cuts to sunset, and Witt agreed that this was necessary as well.
As he's out on the campaign trail, Witt says the issue he hears most about is employment. "We are somewhere between two and a half and three and a half years into a protracted and deep recession. In my legislative district, our unemployment has hovered around 20%. In the winter it can hover around 25%. Those are Depression era levels. Its had a profound impact on local and family budgets--the entire regional economy." Witt noted that one in every five Oregonians is on food assistance and many families simply don't know where to turn. Witt says its particularly bad in rural areas. Witt discussed the special problems of regions where timber mills shut down, creating a devastating impact.
"We need to manage and nurture our public assets. A prime example is our federal forests, the health of which is abominable. The rate of overstocking in our federal forests is nothing short of a disaster. The stocking is at a rate that is inviting major pest infestations or major conflagrations of forest fires." Witt relayed how fire on managed lands is much easier to to get under control than the numerous fires that burn thousands of acres on lands where "laddered fuels" allow fire to get into the crowns of trees, which spreads quickly. Witt says there are significant employment opportunities in using the fiber supply on these lands.
Witt is also an ardent supporter of the federal timber payments program for counties in Oregon. He says that the funding is critical to county budgets. Given the amount of land owned by the federal government, Witt says this money is an integral part of the funding for roads and schools. He says we must find a way to stabilize those payments.
I also asked Witt about his position on marriage equality. "There simply is no reason why two people who are in love and wish to share a life together and enjoy the benefits of a relationship together in a sanctioned marriage should not be able to do so. Quite frankly we would be a lot better off in the nation and the world with more love and more recognition of that love than we are with less of it." On reproductive choice, Witt says he is completely in favor of each woman having the opportunity to make the kinds of choices that she believes are important to her. Witt says he views Planned Parenthood as a critically important institution that provides reproductive services to both men and women in the communities in which they live.
The decision to enter the race for Congress came, Witt says, when he'd decided that Congressman Wu was no longer viable. "It was evident that he wasn't going to survive another election," he said. When asked what sets him apart from his opponents in the primary, Witt said that he believes the district needs reasoned and effective leadership. He says he believes he is the "voice and the advocate for the middle class" on the issues that matter to the district. Witt refers to himself as a "pro-growth Democrat". He says this means he's an advocate for both business and workforce development. "I'm absolutely convinced that we can neither tax or cut our way back to economic prosperity. We need to grow our way back. That begins with job creation."