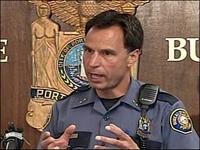 Willamette Week's Nigel Jaquiss is reporting that Portland Police Chief Mike Reese is considering a run for Mayor:
Three sources who have spoken directly with Reese about his plans tell WW that Reese has decided to seek to replace Mayor Sam Adams, the man who elevated him to the top police job last year. ...

Reese brings some significant assets to the race. Older voters and conservatives (yes, they do exist in Portland) are likely to support him. There are many members of the business community who have not yet found a candidate. And he's got a decent shot at the public employee union support that is crucial in Portland city races.
Reactions?