A County-backed campaign to improve the healthy offerings available in urban corner stores.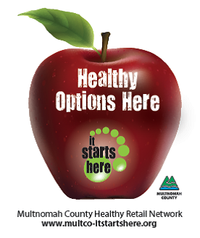 You may not expect to walk into your nearest corner-store market and see an expanded option of fresh fruits, vegetables, and similar healthy food items located on the shelves of such expected items as Little Debbie snack cakes, bottles of Mad Dog, and the rolling hot dog machine. While you might be surprised to see such foods available to you in such a retail environment, you really shouldn't. Such a result would be the outcome of Multnomah County's Healthy Retail Initiative, a campaign currently underway to systemically address the lack of healthy food items available in the stores that are primarily frequented by our region's lowest income residents.
This past summer, Multnomah County kicked off its Healthy Retail Initiative to provide funding and other incentives for urban corner stores to increase the amount of healthy food offerings on the store shelves. Urban corner stores and inner-city markets have long had a negative reputation, health-wise- and with good reason. These stores are the primary source of food in the low-income areas that they are found in, with most of the products sold at these stores energy-dense, low-nutrition foods. A report from the Pediatrics Journal in October 2009 found that researchers from Temple University examining items purchased by over 800 children at Philadelphia inner-city stores discovered that every dollar spent at these markets purchased the equivalent of 350 calories. Considering the obesity and early on-set diabetes are epidemics that our country currently faces, it is inarguable that these inner-city stores are selling food items that are- literally- killing those who purchase them, particularly children. As such, the "healthy corner store" movement has been adopted by community health planners in recent years, and the Healthy Retail Initiative is Multnomah County's effort to confront this threat to public health locally.
There are some who may believe that low-income people have poor diet habits because they "may not know better" or lack the responsibility to eat well and take care of themselves and their families. Often times, however, low-income people engage in the eating habits they have simply due to the fact that they are limited in their choices. While it is debatable whether Portland has areas that fit the traditional description of food deserts, there are some geographic areas- such as large swaths of economically depressed East Portland- that lack a full-service grocery store. Although the Multnomah Food Action Plan- which was adopted by the Multnomah County Commission this past January- include action items to "Increase equitable access to healthy, affordable, safe and culturally appropriate food in underserved neighborhoods," the Healthy Retail Initiative did not come about as an outcome of the Action Plan. Instead, the roots of the Healthy Retail Initiative came out of the efforts of school-based effort in North Portland in which parents, determined to increase the food options available to them, too stock of the foods readily available around each school and provided their findings to the Multnomah County Health Department. These efforts helped lead to the creation of the County's Healthy Eating Active Living (HEAL) Coalition which- along with the efforts of the County's ACHIEVE Initiative that seeks to improve the community health of the region's African-American communities- resulted in the groundwork for the Healthy Retail Initiative.
According to Rachael Banks, the Program Supervisor for Multnomah County's Community Wellness and Prevention Program, months after the Healthy Retail Initiative has begun in earnest, the program is going along "great." "There are twenty retailers that are involved in some capacity with the Healthy Retail Initiative," explains Rachael. "We have provided up to $4500 in funding to individual retailers to provide store improvements, including more prominent display of healthy items on store shelves as well as providing the capacity to stock more healthy foods."
Rachael described the various elements of the Healthy Retail Initiative. "The initial element is in regards to social marketing, with the County providing free materials to retailers that stock a minimum amount of healthy food items. These include the door signs and shelf talkers, which have the graphic of the apple saying 'Healthy Options Here.' The purpose of this element, of course, is to let people know that the store is committed to offering an expanded selection of healthy objects and that they are headed in the right direction. Another element is providing technical assistance, including such aspects that the store may not have previously been familiar with- for example, the correct handling of produce. A variety of trainings to partner retailers are being provided in response to the needs identified by the retailers, including proper food labeling and getting stores certified to accept WIC [the federal Women, Infants, and Children program.] Whole Foods has been an invaluable partner when it comes to helping provide these trainings. And the final element is creating and developing community involvement around the Healthy Retail Initiative, relying on the community served by these stores to help get the word out through the County's website, collecting stories, and having the community conduct an evaluation of these stores."
An example of one of the stores assisted through the Healthy Retail Initiative is the African Mini Mart and Deli Ahmed on North Killingsworth. The store's manager, Mukar Abdow, only had positive things to say in regards to his experience with the Healthy Retail Initiative: "As an immigrant, this was the first time we had a store. And they came and helped and provided training. The store looks much different now. The shelving is better, there are mixed fruits that customers can see. I have more shelf space so I can buy more stuff to sell. And everyone likes how it looks. People come inside now and say 'Awesome.'" So assistance from the County has improved Mukar's business? "Yes, its been good for business. It's been a good experience."
Perhaps the one model that best represents the ideal outcome of the Healthy Retail Initiative is the Village Market located at North Portland's New Columbia neighborhood, the corner store operated by Janus Youth's Urban Agriculture program. The Village Market was a community-oriented project that sought the opportunity to establish and operate an urban corner store that did not need to rely on the 'big three'- alcohol, tobacco, and lottery tickets- to be a viable and sustainable retail operation. Once the location was vacated by Big City Produce, Home Forward- formerly known as the Housing Authority of Portland- invited Janus Youth, who had operated the Seeds of Harmony Community Garden at New Columbia since 2005, to fill the location and make the idea of a healthy corner stone from an idea into reality.
"Home Forward certainly provided the opportunity for community building," says Amber Baker, the Program Director for Janus Youth Village Gardens."Particularly after New Columbia re-opened a center was needed to provide a community space. So we viewed the store as a "social experiment"- a place where cultural and economic diversity could meet and come together, but also a place to reach people and provide basic issues, such as food."
Certainly, the lack of accessible food played an important factor in the siting and opening of the Village Market. "If you look at the census tract where Village Market is located," Amber continues, "33% of the residents have no vehicles. In Portland, the average in a neighborhood is eleven percent. The nearest store is one-and-a-half miles away- but there is no direct bus line. There is a Fred Meyer that can be reached on the Lombard line, but that is further away. And about half of the households in the tract are single-parent households, most of them mothers and grandmothers. Half of the population is under the age of eighteen. So that is a lot of people, a lot of kids, and a lack of flexibility. We believe the Village Market model would best serve this area."
Amber describes Village Market as a "community led" project in which she works in conjunction with an advisory board comprised of New Columbia residents who were actively involved in working with Janus Youth to craft the store into a final product that would best serve the community. One member of this board is Charles Robertson, a charismatic gentleman who has been a resident at New Columbia for three years and also serves on the Portland-Multnomah Food Policy Council. "I proposed the name Village Market," said Robertson. "It was the one chosen from the hat." Robertson provided insight into how the Village Market came to realization: "After Janus Youth got involved and the market started being put together, we got into teams. One team focused on developing a food list and looking for affordable food. Another focused on money- how much it would cost to start-up, and they developed a business plan. At one point, we asked ourselves the question whether this was something whether we could, or wanted, to do- and the unanimous response was 'Yes.'"
After months of operation, Charles addressed the economic vitality of the Village Market's operation. "Currently, we have fifteen employees, four full time and eleven part-time," informs Charles. "The full-time employees have benefits. While we have made strides, the Village Market is not where it needs to be at. We need to develop the deli space, along with the shelving in the back. We need to purchase the equipment necessary to have chefs in the back. We need to get the pricing down to the point where it's both reasonable and affordable. We need to do outreach to different vendors, particularly African and Ethiopian vendors. And we have yet to develop a marketing plan despite having 8000 people living within a mile radius. This may seem like a long list- but it's shorter than it has been." As the season of giving begins to ramp up, would the Village Market be willing to accept donations to address this list of needs? "Absolutely," says Charles. "We'd be willing to accept all the help we can get. If people want to help, they should contact Janus Youth."
The Village Market opened this past spring, with festivities that included speeches from Congressman Earl Blumenauer, County Commission Chair Jeff Cogen, and City Commissioner Nick Fish. "The involvement and support of Nick Fish's office has been incredible," said Amber. "At one point, early on in the process, Charles dragged Nick into the empty store front and described the vision of the Village Market. Fish was able to garner support from the city to secure funds to help with start-up costs. One of the greatest things about this project is that it has gone beyond the neighborhood, building bridges between New Columbia and policy makers."
Indeed, it was through the relationship crafted by Amber Baker and the Village Market team and Nick Fish's office that the Village Market was recognized at the recent Spirit of Portland award ceremony, which Amber described as a "really exciting honor." Charles went a little further and said that while it was "great" to win the award, it was also "easy to share a spirit that was easy to catch. Everyone was on board with what we are doing, everyone that helped- Nick Fish, the Health Department, community members. Everyone caught what we caught."
With the recognition- and celebration- by policy makers at the county and city level, here is hoping that the efforts of the Multnomah Healthy Retail Initiative and Village Market result in a continued increase of healthy corner stores providing healthy food throughout the region.