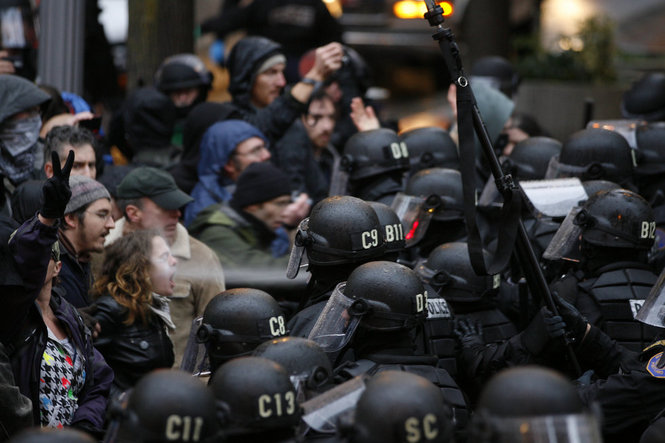 Photo from the Oregonian's Randy Rasmussen. Yes, that's pepper spray.
So far, I've been proud of our city - protesters acting reasonably, police acting reasonably. I'm really hoping that we're not about to see a turn for the worse, on the part of officers losing their cool.
From the Mercury's Denis Theriault:
During a choreographed effort to pull a few dozen protesters out of the Chase bank branch outside Pioneer Square, part of today's hundreds-strong N17 day of action, Portland police officers resorted to a decidedly more muscular show of force in a clash watched by TV cameras and rush-hour commuters earlier this evening. Suddenly all the fun—the dance parties, the union songs, the peaceful arrests earlier on the Steel Bridge and at Wells Fargo—was for naught.

Tromping in with mounted officers, they pushed marchers who had gathered on the sidewalks along SW Yamhill into the street—forcing them to block MAX trains, something no one was doing until the heavily armored riot squad showed up—and then poked and, for the first time, pepper-sprayed the marchers. Significantly, some of the spraying came after protesters had clearly retreated to the opposite sidewalk. (In another odd shift, there also was no federal-court-required verbal PA warning that chemical munitions would be deployed—a hallmark of every other mass police action to date.) ...

I asked a cop on my way up to the scene how many days he'd been on, and he replied wearily, "a lot." How much longer can the chief and mayor keep reacting to protests by throwing hundreds of cops at them? Sure the OT bill is concerning, but based on what I saw today, the fraying nerves of a group of professionals trained to be cool and collected is far more troubling.
For what it's worth, I strongly recommend staying on top of Theriault's coverage of Occupy Portland. He's doing the sort of day-by-day coverage that we wish we could do hear at BlueOregon.