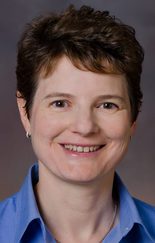 The tendency in filling legislative vacancies mid-term is to pick the most experienced candidate; when the opening is in the Senate, that means picking a member of the House. It's how Chip Shields moved into the Senate. It's how Suzanne Bonamici came to represent Senate District 17. And now that she's moving on to Congress, it's one of the options available to pick her successor. But in this case, picking the member of the House would not be the best choice.
Dr Elizabeth Steiner Hayward, a political newcomer, would be the right choice.
Steiner Hayward is challenging Rep Chris Harker for the right to serve the remainder of Sen Bonamici's term. Harker's done a fine job serving in the House, but that doesn't mean he should be an automatic selection to the Senate seat. I interviewed Steiner Hayward recently and came away convinced she should be the one appointed to pick up the work of Suzanne Bonamici. I've been posting videos of our conversation at her Facebook page; I'll summarize her qualifications below.
Health Care
Steiner Hayward has been a family physician for nearly twenty years. She's worked in private practice and currently serves at OHSU. As well as her academic responsibilities, she runs a small breast cancer program that was a model for legislation.
She is unequivocal about health care: it is a right. And while she accepts the need for pharmaceutical companies and many of the elements of the American system, she is clear that it's a system that needs serious overhaul:
She's not opposed to single payer but does not believe it is politically feasible at this point. She's also not convinced that in terms of making people healthier, single payer is the best option.
OAFP & Government Experience
Steiner Hayward has been a member of the Oregon Academy of Family Physicians since 1992 and serves currently President (having succeeded, I discovered during the interview, my daughter-in-law's father!) In 2002, as Chair of their External and Legislative Affairs group, she moved OAFP to take a more pro-active political posture. "We felt that people were speaking for doctors, but we wanted to speak for our patients."
Under her leadership, OAFP, which represents about 1,100 family physicians and is the largest specialty society in Oregon, began to work with legislators to draft laws that to improve access to high quality health care for all Oregonians. Among the successes on which she worked was a bill to require insurance companies to pay for improved clinical breast examinations for women, to improve early detection of breast cancer. She also helped organize a coalition of about forty organizations across the spectrum of the health care profession to draft legislation regarding primary care centers. Of the four bills presented to the 2011 Legislature, two passed and one even got $500,000 in funding — "a pretty darned good accomplishment," she said.
Jobs
When I suggested she might not have experience as a "job creator", she gave me a lesson in the power of doctors to create jobs in the community:
She is a fan of Labor Commissioner Brad Avakian's idea of a WPA-type public investment in jobs. She would like to see the state make a significant investment in transportation infrastructure, including our seaports and airports, and also increasing Oregon's atrociously low number of teaching nurses. She does recognize that public investment of that kind is one the Legislature is loathe to make in the current economic circumstance. But as a member of the Senate, she'd be willing to step up and fight for a bold plan to create jobs, boost the state's economy, and get Oregon moving in the right direction.
I asked her about the Columbia River Crossing, and while she said she still has much to learn about it, she does believe a new bridge is needed. She was insistent that it include light rail, not simply for the transportation aspect but to help ensure that Clark County is tied tangibly to the Metro region, something she believes is critical to the area's economic recovery.
Political power
I asked her about Occupy and the 99% Movement, of course:
Her passion, she said, was in getting people involved.
Gender/Identity Politics
Finally, I asked her about running as a woman.
Delegates to nominating conventions tend to favor candidates with whom they are familiar. Rep Harker is a known commodity to most of the PCPs who'll attend the Sunday convention, and that will give him an advantage. The final decision, of course, belongs to the Washington and Multnomah County Commissions. Both Harker and Steiner Hayward have met with those elected officials to make a personal pitch for support. While it might seem that Harker has an advantage, I think it's quite possible that Dr Steiner Hayward's experience in the medical field, her work on legislation, and her own personality, which is strong and compelling, may lead the commissioners to take the unconventional step and select her to replace Suzanne Bonamici.
I certainly urge them to do exactly that.
Minor correction. Elizabeth has been a family physician for over 20 years but a member of OAFP since 1991.)