The former city council candidate and intern for the Democratic National Committee provides an under-30 perspective on Portland's present and future.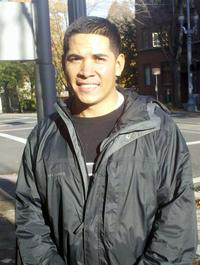 For whoever came up with the adage that "sometimes life is stranger than fiction" might have had Rudy Soto in mind. Indeed, if a script of Soto's life was written and submitted to Hollywood, it would be rejected for seemingly implausibility and lack of realism. But it's true, every but of it, from being raised in one of the poorest Native American communities near Nampa, Idaho to a stint in juvenile detention due to gang involvement prior to relocating to Portland. In Portland, Rudy put his life on a different track, which included not only a year spent as the student body President at Portland State University, but also, at the tender age of 24, a fourth-place finish in the 2010 city elections for Dan Saltzman's seat on the City Council. Since that experience in electoral politics, Soto has continued his service in the National Guard- "where I'm one of the only Democrats in my unit," he admits- and also spent a semester at as an intern for the Democratic National Committee. Now currently employed as a Youth Engagement Specialist for the National Indian Child Welfare Association, Rudy travels throughout the West Coast and Alaska where he speaks to Native American youth to hopefully inspire them to overcome the similar obstacles he has faced. Considering this unique background, Rudy's perspectives on Portland's present and future allowed for an interesting discussion.
To begin, I want to start with the circumstances of your life, how you were raised and grew up. The details of it are almost too fantastic to believe, from the gangs in Idaho to the juvenile detention to running for office in Portland and meeting President Obama and interning for the DNC. What do you think when you reflect on all that you have been able to accomplish since your beginnings from a Native American community in Idaho?
You can say that again. The direction that my life has headed and where I've ended up has been incredible. I was recently in Puerto Rico staying at a king suite in the Hilton that I was able to stay in for a $100 a night due to a friend of mine, and that night the realization came to me that I've really "Come a long way" from that reservation in Idaho. That experience at the Puerto Rico Hilton might be normal for some people, it certainly wasn't for me. I could never have imagined I would have been there growing up. But it makes me think of these inspirational quotes from leaders throughout history, and how I try to really take them to heart and apply what they say. It is only through applying these lessons that I have been able to have had the life that I've had, which includes the opportunity to travel often, something that I really love doing
Do you ever return to Nampa, Idaho? And if so, what's that like?
I do actually return to Idaho and volunteer to speak, at least once a year. I go to the Juvenile Detention Center at the state's Department of Corrections, where I speak to mostly young men that are spending six months to a year in the juvenile detention facility. And its interesting, they listen closely to what I have to tell them. I enjoy speaking with youth, it's a highlight of my life.
Do any of these youth stay in touch with you after you speak with them, or follow up with you?
They haven't as of yet. There are some really strict policies that relate with them keeping touch with me. There have been pictures taken of me with the group of them, but I haven't been able to receive a copy of the pictures as their faces cannot be shown outside of the detention center. This is for their protection, of course. But if any of them looks me up once they are released, I would really appreciate that.
So, two years ago you ran for city council and targeted Dan Saltzman's seat. What was that experience like? What lessons did you learn?
It was a great experience. It was definitely a learning lesson. I learned a lot about how politics works and what it is really about. I learned a lot about what occurs behind-the-scenes as well as various tricks of the trades.
What were some specific lessons that you learned?
Well, I really learned about the importance of money in politics. I believe that if I had been able to receive the public financing or had done more fundraising, I could've have given Commissioner Saltzman a run for his money.
You mention the public financing. In the 2010 election, Portland voters rejected voter-owned elections at the polls, all but guaranteeing that huge amounts of money will be necessary to be raised in future political campaigns. What was your takeaway on the rejection of voter-owned elections, given the lesson you learned about money in politics?
It was an unfortunate result. At the same time, it was understandable. Currently, we are facing a situation in which resources are slim due to the economic collapse, and voters didn't want to have public funds go for politicians' self-serving campaigns.
That sounds exactly like the message that was used to defeat voter-owned elections at the polls. I assume you agree that the opposing side to VOE had a more powerful message?
I think it has less to do with messaging, but more with the public not having faith in their candidates. Amanda Fritz is perhaps the only exception. I mean, there was also Erik Stein, but he left mid-term, so that didn't do much for the public to have faith in their candidates. I just don't think that given the caliber of candidates Portland voters have had to choose from in recent years, voters were comfortable in funding their elections with public tax dollars.
That's quite an indictment of the candidates Portland voters have had to choose from in recent years.
That's my opinion.
Rudy, you are 26. I am interested in what the present state of Portland, as well as the city's future, comes across to your cohort of under 30-year olds that are in a position to actively shape this city. What successes and struggles have you yourself or friends you might know have faced?
I believe that Portland is a vibrant, growing, young city. It's an exciting place to live and be, due to the city's progressive values, such as tolerance of different cultures, political affiliations, orientations, and identities over all. My concern with Portland is the same as with Oregon overall, that there is a significant section of society that are being left behind- and we are failing everyone by letting so many youth fall through the cracks. Everyone will have to share that tax burden- whether it's through an increase in crime, or other problems, simply because people are fine with letting a chunk of society struggle. This disappoints me. Although I do see some good signs, I also feel like I hear a lot of lip service. For the most part, politicians give lip service to people to rally up votes. I've learned that it's more important to watch what people are doing, and don't put so much trust in what they say. At the end of the day, results are what matters.
Portland has a reputation of a "livable city" but for many people, particularly young people, it is also a city where it's difficult to make a living. Have you heard such complaints by people you know just how difficult to get by in Portland, despite the amenities that the city may offer?
Of course. There are a lot of people struggling to find secure employment, and this applies across the board to different backgrounds, ages, classes- all around the country. In Oregon, I'm hopeful that our elected leaders can figure out the problem and solve it and not rely on the federal government and do what they can do because Congress is a wreck.
It's interesting that you say you hope that state and local elected leaders can find solutions to these problems and not rely on the federal government, because during the take down of the Occupy Portland camps, Commissioner Fish said that the homeless that had flocked to the camps were the result of a continual disinvestment that transferred the burden onto the local government. It seems like Congress and the federal government being a wreck results in local governments being overwhelmed by society's problems.
If you can't rely on a broken-down Congress, then you have to take problems into your own hands. Even if it seems like too much of a burden. I think Commissioner Fish is one of Portland's most prominent leaders, and I'm proud to say that I interned in his office for one of my quarters at PSU. I witnessed how he works first-hand, and I'm interested in him bringing together faith and civic leaders together to see if churches can help share the homeless burden. It's getting to the point where we might have to consider every option, even neighborhood community centers, to provide safe places for people to stay and sleep, so that they avoid dying on the streets.
You mention that, but at the same time a group of homeless activists called Right to Dream Too set up their "rest area" on a block north of Burnside, right by the Chinatown gates. And the city, responding to some complaints made to Bureau of Development Services, almost forced the tents to be taken down and removed from the private property, which provides a safe place for homeless people to stay and sleep. So I guess anything could be considered, but that?
Well, the city doesn't want people to struggle in full view. It makes the city look bad. I understand what they are trying to do to get the homeless people there to leave. I just hope that the city points them in the right direction of further services and assistance they could use to get their life on track. But, let's face it, Portland is a draw for homeless people because we are so progressive and caring. We need to make sure that non-profits and shelters are able to meet the demands placed on them by the city's homeless, and that we are not advertising to other cities that we will accept their homeless, because we can't handle or provide for the homeless that are all ready here. That would simply be shooting ourselves in the foot. We need to emphasize life training, job skills, hygiene. Emphasize these other services, otherwise the problem will grow if people know they can come to Portland and be taken care of.
I assume you've been following the Mayor's race, which is slowly building up as we approach the election year. What are you keeping an eye on, or are any narratives jumping out at you?
I thought it was pretty funny when Chief Reese was flip-flopping about possibly running for mayor because of the support he received from certain people in the city government. I am excited that there's good candidates running for mayor this year. I am supporting Jefferson Smith, because of his youth and his intellect. He is well-connected throughout the country, and I think he would definitely raise Portland's profile and put Portland on the map. I have interacted him through volunteering with the Oregon Bus Project, and I think he will be a great mayor.
As we approach the election for mayor, we will also be entering the final year of Sam Adams stay in office. Looking back, what is your take on the legacy of Mayor Adams?
It is an unfortunate legacy. Mayor Adams is one of the smartest, most strategic, capable leaders I have seen in Portland during the ten years I have been here, and he shot himself in the foot by not coming clean regarding Beau Breedlove. If he had been honest, Portland voters would've given him a pass. But he knew that he couldn't win re-election. He is a forceful leader, really strong at pushing progressive policies and all these things that make Portland great. But he doesn't have the credibility to lead and serve as face of the city. In a way, I was hoping he'd run for re-election and take a stand on the actions he's taken to move the city forward, but character and integrity matter and at the end of the day, those things decided his fate.
Have you considered running for office again?
I've thought about running for office. But not soon. I am passionate about helping youth overcoming obstacles and adversity. I love to travel. And I am making an impact in my current position. Hopefully, at some point down the line, I can help someone with a campaign or be a candidate myself.
Okay, Portland in ten years from now. What, to you, is the best-case scenario?
I would like to see Portland grow, and see more density in the city. I'd like to see more businesses in Portland. It would be great if the Portland State campus could expand, and it would be exciting if there was a more vibrant student life. I would like to see more opportunities for young people to pursue careers throughout the city and less juvenile delinquencies. It's like to see gang violence and fewer high school dropouts reduced significantly. These issues are important to me.