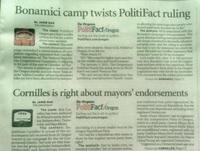 By Scott Moore of Portland, Oregon. Scott is the Communications Director for Our Oregon and was a political reporter and news editor for the Portland Mercury. Previously, he contributed Sorry, PolitiFact Oregon, but you need to check your facts.
If I was the editor of the national PolitiFact enterprise, I'd be alarmed at the amount of damage its Oregon branch has been doing to the brand for many months, even violating PolitiFact's own stated principles. The recent output from PolitiFact Oregon and its chief Oregonian reporter, Janie Har, should make it clear that they've ditched the fact-checking mission in favor of an embarrassing obsession with selectively focusing on political items that amplify Har's apparent personal bias.
Late yesterday, that obsession blew up in their face, when Har had to reverse a "ruling" on a claim that was meaningless to begin with.
Here's the background: Last Thursday's Oregonian Metro front page featured a pair of PolitiFacts penned by Har, one giving Suzanne Bonamici a "Pants on Fire" ruling and one giving Rob Cornilles a "True" ruling.
Bonamici's offense? In a press release, the Bonamici campaign highlighted the fact that some of the evidence the Cornilles campaign provided to PolitiFact as the basis of their taxes attack against Bonamici included votes that weren't either taxes or fees. Har chose to inflate this misunderstood point into the full focus of her wrath, ignoring the other points made by the Bonamici campaign. Lost in Har's reporting was any examination of the main controversy, which was Cornilles airing TV commercials falsely claiming that Bonamici was in favor of cutting Medicare.
But it gets even better (and by "better," I actually mean "worse"). Out of all of the many, many claims made by the Cornilles campaign and his surrogates, this is what Har and the PolitiFact team chose to "fact check":
"Rob Cornilles has been endorsed by 20 local mayors, including Independent, Democratic and Republican."
They ruled it "True".
By running these pieces side by side, Har and PolitiFact Oregon were trying to send a clear message to the paper's readers and the voters of CD1.
But here's where it gets embarrassing: The "Independent" mayor endorsing Cornilles is actually non-affiliated, not a member of the Independent Party of Oregon. Har reversed the ruling yesterday from True to False based on that discovery. The reversal shined a floodlight on the fact that it was a ridiculously trivial "fact" to "check" in the first place.
In both cases, Har chose to pick out insignificant, obscure statements that have little to no bearing on the issues of the election. In Bonamici's case, this allowed the Oregonian to stamp a "Pants on Fire" label over a statement that was generally true. In Cornilles's case, PolitiFact picked a statement that isn't disputed by anyone, and basically serves as a free campaign ad for the Republican by amplifying a message from an ad supporting him.
To put it more bluntly: Har's apparent bias has been made obvious by her bizarre, nitpicky choices of claims to analyze, and then by how she treats those claims.
In doing so, Har and her editors appear to be violating PolitiFact's own statement of principles:
Because we can't possibly check all claims, we select the most newsworthy and significant ones.

In deciding which statements to check, we ask ourselves these questions:

...Is the statement significant? We avoid minor "gotchas"' on claims that obviously represent a slip of the tongue.
And:
Context matters -- We examine the claim in the full context, the comments made before and after it, the question that prompted it, and the point the person was trying to make.
Neither of the PolitiFact entries in last Thursday's paper lived up to those principles. They were far from the most newsworthy or significant claims made by either campaign, and the overall context was ignored.
If the goal of PolitiFact is to elevate political discourse and give readers a fuller understanding of their electoral choices, PolitiFact Oregon is failing.