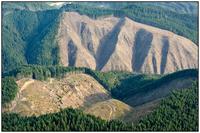 By Steve Pedery of Portland, Oregon. Steve is the Conservation Director for Oregon Wild, based in Portland. Since 1974, Oregon Wild has worked to protect the wildlands, wildlife, and waters that make Oregon a special place. The organization recently won it's second "Two Chiefs" award from the USDA Forest Service and Natural Resources Conservation Service, for work to promote conservation-based management of public lands.
Rep. Peter DeFazio has a reputation as one of the most outspoken and progressive members of the Oregon Congressional delegation. Most Oregonians think of him as a friend of environmental conservation, and an advocate for the protection of special places through Wilderness legislation like the Wild Rogue and Devil's Staircase proposals.
Oregonians also know that a true friend has a responsibility to tell someone when they are making a huge mistake. That is why Oregon Wild, and other public lands, wildlife, and salmon conservation groups in Oregon, are strongly opposing a proposal by Rep. DeFazio to re-link federal funding for county governments in Western Oregon to logging, including clear-cutting, on public lands. And why we are strongly urging him to share the legislative language of his proposal with the public, and not try and move such a plan through a back-room deal with House Republican leaders.
There is no denying that Rep. DeFazio, along with Reps. Schrader and Walden, are facing enormous political pressure due to the expiration of federal "county payments" legislation. For decades, counties in the Pacific Northwest received a portion of the revenue generated by clear-cutting on federal public lands. This was especially true for counties in Western Oregon that contain public Bureau of Land Management lands. Known as "O&C Lands", as much as 75% of the money generated from clear-cutting on these public lands historically went to rural county budgets. The epidemic of logging on these and other public lands in the 1970s and 1980s inflated county budgets, but also polluted thousands of miles of Oregon rivers and severely damaged fish and wildlife habitat.
Strong public opposition finally brought an end to rampant clear-cutting in the 1990s – and the money going to counties from timber sales shrank. Congress cushioned the fall by instituting "Secure Rural Schools" legislation, also known as County Payments, in the year 2000. Aimed at helping transition the counties away from dependence on federal subsidies, this legislation expired in January. A gridlocked Congress has thus far failed to extend the program, and many counties have made no provision for addressing the loss of federal subsidies.
Some in Congress, including Sens. Ron Wyden and Jeff Merkley, are working on a short-term extension of county payments to give local, state and federal leaders time to work on a permanent solution. Unfortunately, DeFazio, Schrader and Walden have not been working to advance a similar measure in the House. Instead, they have partnered with House Republican leaders who wish to exploit the county payments impasse to weaken safeguards for clean water and wildlife. Despite historic low demand for timber, they are promoting the idea that counties can clear-cut their way to prosperity. Worse, they have thus far refused to make specific details of the plan public.
What little has been revealed about this logging plan isn't pretty. Approximately 1.2 million acres of federal Bureau of Land Management lands -- forests that belong to all Americans -- would be put into a corporate "timber trust." These lands would then be managed under weak state logging rules rather than more protective federal standards. State rules allow clear-cutting, don't require scientific analysis of logging's effects on salmon and other endangered species, and fail to include important Clean Water Act safeguards. The rules are so weak that even the timber-industry dominated Oregon Board of Forestry now admits they must be modernized.
DeFazio and others have attempted to defend the plan by pointing out that trees over 120 years old could be spared. That is small consolation given that the clear-cutting proposal would mean removing 1.2 million acres from the science-based management of the Northwest Forest Plan. Worse, it would undermine decades of work to build consensus around sustainable forest management practices. Groups like Oregon Wild have long supported the conservation-based approach of forest managers in the Siuslaw National Forest, and would like to see their logging and restoration model expanded. Unfortunately, the DeFazio plan is the exact opposite of this responsible, balanced approach.
Perhaps most troubling is that this logging plan is unlikely to generate the revenue county governments are seeking. Timber prices are at record lows, and the only growth in timber demand these days is coming from China. And as Gov. John Kitzhaber has noted, it is not in Oregon's interest to become the timber colony of Asia.
These are the sorts of problems that public hearings, and the normal legislative process, help uncover, which is why it is imperative that DeFazio, Schrader and Walden come clean on their legislation. They should share it with the public and schedule hearings both in Washington, D.C., and in Oregon, rather than leaving the legislative calendar in the hands of House Republican leaders. They should commit to an independent scientific analysis of the plan, as well as an economic analysis of its viability.
Most important, they should be willing to listen to Oregonians' concerns and explore alternatives for county funding that don't sacrifice our clean water, wildlife and public lands.