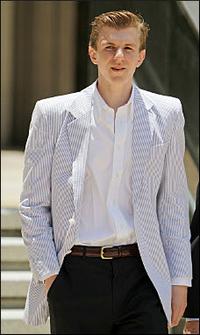 James O'Keefe is the right-wing activist that uses selectively-edited hidden-camera video to punk organizations like National Public Radio, Planned Parenthood, and ACORN.
He likes to claim that he's a journalist, but nothing could be further from the truth. What he does is more like Ashton Kutcher's Punk'd than Mike Wallace's 60 Minutes.
As the Washington Post's Michael Gerson wrote last year:
In [the NPR] case, O'Keefe did not merely leave a false impression; he manufactured an elaborate, alluring lie. ... There is no ethical canon or tradition that would excuse such deception on the part of a professional journalist. ... These tactics are not a new brand of gonzo journalism. They are a sophisticated version of the political dirty trick.
Nevermind this bizarre episode:
[T]he latest stunt by James O'Keefe -- this time involving a female CNN reporter, a boat and lots of sex toys. ... O'Keefe's plan? To lure her to his floating "palace of pleasure" (filled with champagne, strawberries and sex toys), hit on her and secretly film the whole Borat-like exchange.
Which is why it's so troublesome that Rep. Bruce Hanna, the Republican co-Speaker, is standing beside O'Keefe and speaking at a day-long workshop on Wednesday called "Making an Impact: Citizen Watchdog Training with James O'Keefe".
Last year, the 30-30 tie in the Oregon House could have been a disaster. Instead, Hanna and the Democratic co-Speaker, Rep. Arnie Roblan, managed to work together and keep things from going off the rails.
And starting Wednesday, the Oregon House will try and reprise that procedural comity for the next month. For the life of me, I can't figure out why Rep. Hanna would take time out of the first day of the new legislative session to hang out with one of the most divisive and ethically-challenged figures in American politics today.
Just a couple of weeks ago, O'Keefe's pals appear to have attempted to commit voter fraud in the New Hampshire primary. From Think Progress's Scott Keyes:
The undercover video shows unnamed individuals working at O'Keefe's behest approaching polling stations throughout New Hampshire. After poll workers asked for the person's name, O'Keefe's agents gave the name of a voter who died within the past few weeks, before then receiving a ballot to vote. The individuals asked the poll workers if they needed ID to prove their identity, and when poll workers confirmed that they did not, O'Keefe's men insisted on returning to their car to retrieve their ID and returned the ballot.

However, in highlighting the non-problem of voter fraud in New Hampshire and elsewhere, O'Keefe's agents appear to have committed voter fraud themselves.
And I've heard rumors that he's been trolling Washington County, trying to get his hands on a ballot.
Really, Speaker Hanna, this is how you want to open the February session?