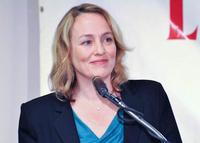 By Russ Casler of Portland, Oregon. Russ is an aide to Rep. Chris Garrett. Last summer, he worked for Eileen Brady's campaign for Mayor. He speaks only for himself.
In an article titled "Extra Seasoning: Records Raise Questions About Eileen Brady's New Seasons Résumé," published in the January 18th edition of Willamette Week, local journalist Nigel Jaquiss investigates the role that mayoral candidate Eileen Brady played in the founding of Portland's landmark grocery chain, New Seasons Market, alongside her husband, Brian Rohter, and "two other families and many friends."
Mr. Jaquiss, whose previous articles I have read and generally respected for their thorough vetting, makes several dubious assertions in this exposé which deserve redress. His own investigation reveals answers to the initial questions he raises, yet he fails (intentionally or otherwise) to come to the most basic conclusions; Ms. Brady's true role in New Seasons' founding left seemingly in doubt.
First, let me start with Ms. Brady's own disclaimer: "I was never on the payroll." Ms. Brady later clarifies in her response to the article:
"Like many couples who launch start-up businesses, we did it at our kitchen table, and one of us (me) kept a day job while the other (Brian) took on the full-time role."
But as Mr. Jaquiss rightly points out, the term "co-founder" is a nebulous one. So let's look at how Ms. Brady defines her role: "she conducted focus groups, acted as company spokeswoman, wrote the New Seasons' employee manual, established the company's health insurance program and even helped edit headlines and copy for the store's ads." These responsibilities were a natural extension of Ms. Brady's experience as HR Director of Nature's Fresh Northwest prior to the formation of New Seasons.
It's critical to point out at this point that these claims by Ms. Brady are never refuted in the article.
To the contrary, past New Seasons' employees and Mr. Rohter, New Seasons' previous CEO, confirm her significance. Even Lisa Sedlar, New Seasons' current CEO, stated "New Seasons would not be New Seasons if Eileen had not contributed so greatly."
Mr. Jaquiss remains silent on this, and instead changes tack and focuses on Ms. Brady's financial involvement in New Seasons' founding viz. the limited corporate financial records available to the public (New Seasons remains a privately held company). OLCC filings "show just three original investors in the business: Stan Amy, Chuck Eggert and Rohter." Mr. Rohter explains that the omission of Ms. Brady's name was intended "to shield Brady from any potential liability should New Seasons fail. He says he always considered any money he put into the company a joint investment with his wife, and says most of their initial investment came from her savings." This is just a savvy business move. If New Seasons went under and incurred substantial debt, Ms. Brady's personal (and, by extension, part of their family's) assets would be protected.
Mr. Jaquiss then quibbles with Ms. Brady's assertion that she and Mr. Rohter "risked [their] entire life savings…to start New Seasons Market," citing the couple's initial investment of $220,000 relative to net assets totaling $712,000. I'm guessing Mr. Jaquiss never took BA 101 in college, or he would have learned that the majority of most Americans' net assets are tied up in their home. Subtract additional considerations for investments locked into retirement or college funds, coupled with a nominal checking account, and it's not unreasonable to deduce that their savings amounted to roughly $220,000. This sum translated to 11% of the entire initial investment to found New Seasons Market, "a figure [Rohter] and Brady say grew over the years."
So let me ask this:
If someone invests their not-insignificant life savings into a company's genesis, designs that company's employee manual, establishes that company's benefits package, works on early advertising and copy for the company, and acts as the company's representative/spokesperson for several years -- if that person is NOT considered one of said company's co-founders, Mr. Jaquiss, who is?
I understand it's difficult to sell newspapers these days, I really do. People don't want mundane truth, they demand controversy and catchy headlines -- so-called "gotcha journalism." In such an environment, it can be very tempting to cut corners in the pursuit of a lead. But it doesn't give Mr. Jaquiss the right to spin fictions and print quasi-libelous claims about a local small business owner. It's irresponsible and lazy at best, and at worst, as Mr. Rohter implies, it suggests an undercurrent of sexism.
Would we be asking these questions if the founding CEO had been a woman, her husband instrumental in their company's founding (though retaining his day job to ensure a stable income as their new project got started) and claiming that experience as part of his résumé for public office? I doubt it.
Sorry, Nigel, but you should know better.