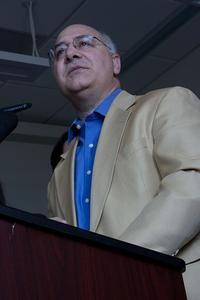 Oregon Labor Commissioner Brad Avakian announced today that he's running again for another term.
Avakian's tenure in the job has been a marked success so far. His term has seen a reinvigorated use of Commissioner Complaints. One was used to pursue a civil case against John Minnis, who was charged with sexual harassment and discrimination resulting from Minnis' tenure with the Oregon the Department of Public Safety Standards and Training. The case was eventually settled for $450,000. Another Complaint was also filed against Typhoon! restaurant for wage discrimination. That Complaint led to an investigation and formal charges.
Commissioner Avakian created the Oregon Council on Civil Rights to bring together strong leaders from Oregon's diverse communities and raise the profile of civil rights issues in the state. Avakian also fought for, and secured, additional General Fund money for the Technical Assistance for Employers Program. The Program helps educate Oregon employers about employment law. This has allowed for more and better employment law education for Oregonians, especially in rural areas.
Avakian's office also championed Oregon House Bill 3362, a $2 million Career Technical Education Revitalization grant. The grant establishes the framework for a system of educational pathways, especially in the healthcare and renewable energy sectors. He also worked to pass House Bill 2309, which provides remedies for employees paid with checks that bounce.
One of the things I like most about Avakian is his very strong support of LGBT rights. Avakian actively supported non-discrimination legislation to protect LGBT citizens from being discriminated against in employment.
The Bureau of Labor and Industries now enforces this law. Avakian's opponent, Republican Bruce Starr, voted against it.
You should follow Avakian's campaign on Facebook. too. He's truly one of Oregon's great progressive leaders.