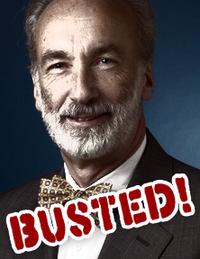 It was one of the strange little mysteries of the 2010 election cycle. Jim Huffman, the law professor and GOP opponent of Senator Ron Wyden, disclosed in his quarterly reports that he'd loaned a total of $1.35 million to his campaign.
The only problem? Previous disclosures had listed his total non-home assets as between $500k and $1m, and he didn't disclose a loan against his house. So, where did the money come from?
Now, we know. As we all suspected, it was from his wife, Leslie Spencer. And because their assets were not jointly held, a contribution or a loan from her in excess of $2400 is illegal. So, the DPO filed a complaint.
And now, Huffman has been fined $29,900 by the Federal Elections Commission (pdf). The FEC noted that Huffman "reported the receipt of six loans from Huffman's personal funds that were not from his personal funds because, based on Huffman's personal financial disclosure statement, Huffman did not have sufficient personal funds to make the loans."
At the time, Huffman told the O's Jeff Mapes that the loans were "strictly legal". According to the FEC summary of facts, Huffman and Spencer "operated under a good faith belief that .. the personal loans were permissible regardless of the specific origin of the funds."
Which is kinda funny, because Huffman worked kinda hard to cover up where the money was coming from. Again, the FEC summary of facts (to which Huffman has agreed):
FTCI wired funds from Ms. Spencer's trust account in the amounts of $50,000, $150,000 and $200,000 to Mr. Huffman's and Ms. Spencer's joint account at Bank of the West on March 15, 2010, April 8, 2010, and July 1, 2010, that were used to fund loans of the same amounts disclosed bythe Committee as from Mr. Huffman's personal funds on March 30, 2010, March 31, 2010, and June 30, 2010, respectively. To fund a loan of $500,000 on September 14, 2010, also disclosed as from Mr. Huffman's personal funds, Ms. Spencer wired $500,000 from her FTCI line of credit to the joint bank account at Bank of the West on September 13, 2010, and Mr. Huffman then wired those funds to the Committe's account at Wachovia Bank the next day.
Yeah, so we had a law professor - a dean! - conspire to violate federal law in an attempt to steal a U.S. Senate election. And despite all that, and despite spending $2,177,539 more than Wyden's 2004 opponent, he bumped the GOP vote total against Wyden from 32% to 39%. (That's more than $300,000 per percentage point.)
It'd be hilarious if it wasn't so sad.
I guess we know why Huffman ain't running for Attorney General now - or anything else.