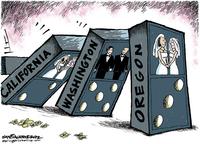 It's perfect timing for Valentine's Day. The Governor has five days from today to sign a law that will legalize marriage for all consenting adult couples, gay and straight.
"Marriage is the word our society uses to describe committed lifelong relationships," said Rep. Jamie Pedersen, D-Seattle, a gay lawmaker who helped lead efforts to push the bill through the Legislature.

"I would like for our four children ... to grow up understanding that their daddy and papa have made the kind of lifelong commitment to each other," Pedersen said. "Marriage is the word we use in our society to convey that idea."
Congratulations to our neighbors to the north.
Discuss.