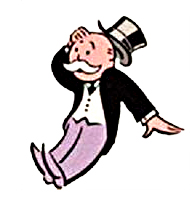 It's starting to get embarassing for Allen Alley - the two-time loser that's now in charge of the Oregon Republican Party.
It wasn't that long ago that Alley was trumpeting the ORGOP's decision to invite non-affiliated voters into the May primary election. The idea was that allowing NAVs to help pick the nominees for State Treasurer, Attorney General, and Secretary of State would somehow endear them to the party. (But not, heaven forfend, the presidential race, congressional races, or legislative races.)
Then, on filing day, total failure: Zero candidates for AG. Zero candidates for Treasurer. And one candidate for Secretary of State.
And as the O's Jeff Mapes reported ten days ago, the Oregon GOP can't dial back their stupid open primary - and it's going to cost Oregon taxpayers $200,000. Even some of their best advocates and party officers can't stomach it:
"There's not much benefit," fumed Rob Kremer, treasurer of the Oregon Republican Party, "in taxpayer money being spent to no purpose."
Alley's other big idea this spring? A Republican presidential primary debate, to be hosted by Oregon Public Broadcasting. While I think it would have been great fun to watch those guys make their way through Portland, let's be honest: There's no way that they were going to be favorably inclined toward a debate on public TV. After all, it's darn near religion in that party that public broadcasting should be abolished. And late last week, Mitt Romney pulled the plug - and Rick Santorum followed suit.
Alley's management of the Oregon GOP's fortunes is starting to look a lot like his management of Pixelworks.