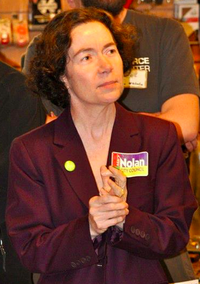 Just in time for National Walk to Work Day - tomorrow, April 6th - sign up here) - Bike Walk Vote PAC held its "4/4 Forward" event, introducing six key candidates to supporters, and encouraging them to get involved in the campaigns. (More on the event here.)
The most notable endorsement not previously covered on Blue Oregon is Rep. Mary Nolan, who's running for City Council. From the press release:
"[2013 will see] a change in which Commissioner to oversees both Portland's Bureau of Transportation as well as the city's Police Bureau. With countless critical concerns falling under the city's management, including short term projects like North Williams, long term projects like the Bicycle Plan for 2030 and the Pedestrian Master Plan, as well as ongoing issues like collision responses and traffic safety enforcement, the constituents represented by Bike Walk Vote will pay close attention to the campaigns for City Hall throughout the 2012 election year.

Bike Walk Vote endorses Mary Nolan for City Council Position #1. "Mary Nolan is an award-winning leader in the protection of Oregon's environment and land use planning system. Mary Nolan has taken tough positions in support of green and active transportation. In the legislature she took courageous votes against highways-heavy transportation plans, and she opposes the current CRC proposal. Mary Nolan's experience managing Portland city bureaus under then-Commissioner Earl Blumenauer makes her uniquely qualified to serve on the Council and actively manage the budgets and personnel that make this city work," said Evan Manvel, Bike Walk Vote Co-Chair.
The endorsement was covered at BikePortland and over at the Portland Mercury.
Bike Walk Vote also endorsed Steve Novick for Portland City Council. We are particularly impressed by his understanding of the value walking and biking have in saving other people money in health care costs.
Disclaimer: I co-chair Bike Walk Vote PAC, and serve (completely separately) on the Board of the Willamette Pedestrian Coalition, which is promoting Walk to Work Day.
UPDATE: To hear the candidates yourself, meet them at the Council transportation discussion on April 11th from 7 to 9pm at Someday Lounge. Organizational sponsors: 1000 Friends of Oregon, the Bicycle Transportation Alliance, Coalition for a Livable Future, OPAL, Ride Connection, Upstream Public Health and Willamette Pedestrian Coalition. To check out their responses in advance, visit here.