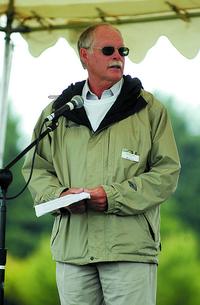 By Tim Young of Portland, Oregon. Tim is a former student body president at Portland State and a former member of the Oregon State Board of Higher Education. Previously, Tim contributed "After Lariviere, a new chance for the University of Oregon".
There are leaders that inspire others, and then there are leaders that inspire others to become leaders themselves. Carl Hosticka inspires leaders to become better than they think they are, and to accomplish more than they thought they could.
He is an educator, a dedicated public servant, a father, a grandfather, a husband, an Oregonian and he's running for House District 37 representing Tualatin, West Linn, parts of Lake Oswego and King City. He deserves your support. Take my word for it. I grew up in the area, know Carl and with conviction can say that Mr. Hosticka is the perfect fit to stick up for the great people of HD 37.
Here's a few reasons why.
He's a genius. I had the opportunity to study under Carl at the UO in public policy and management. As an educator, I can tell you that he is committed to each student's success and understanding. I looked forward to every class with Carl; yes, he was one of those kinds of educators truly. I found him challenging, funny, engaging and, frankly, very wise. He was one of my favorite teachers ever, and one of the smartest people I have ever met to boot. I don't say that about many of the educators I tortured in class throughout my academic career. Carl is special. He commands respect and gives it freely; he makes learning fun, too.

Mr. Hosticka knows things that you can only get from experience. As a leader, Carl has decades of experience and a laid-back style that can be comically disarming at times. Other times, Carl can be very serious. He knows how to govern, and how the legislature works, having served there before. He's so dedicated to the craft of governing, I bet he sleeps with a copy of Robert's Rules of Order under his pillow. Just kidding, but that may not be that far off for some of you out there reading this blog. You know who you are. :-)

Carl will get things done for the district. With a Democratic governor, likely a Democratic Senate and the House possibly under Democratic control, Carl's record of being able to work within his own party to get things done means the people of HD 37 are going to get effective leadership. It's a wonderful area that deserves equally great representation.
Lastly I'd like to turn to a subject that is close to my heart: public post-secondary education in Oregon. Education can transform a whole society and economy in the long term and Carl knows this. Carl wants to stop the train wreck that started before some of us were even born. For decades, this state has been taking money out of post-secondary education and putting it into prisons. The result? A disinvestment in education and skyrocketing tuition. Tuition alone was up 841% between 1979 and 2009 at the University of Oregon adjusted for inflation. Today in 2012, it is worse. Carl wants to help stop this disturbing trend, for the benefit of all of us. Carl also wants to give institutions the freedom to pursue their respective areas of excellence, and the support they need to be able to hire the best faculty in the world to teach the next generations of Oregonians to lead and prosper.
Republicans want to work with him, Democrats trust him and Independents just need to get to know the guy because this person is an accomplished and gifted public servant who is willing to step back into the arena for the good of his community. King City, West Linn, Lake Oswego and Tualatin would do well to elect him as their state representative, and they should have him as their state representative. He's the best. It's a perfect fit.
In short, Carl Hosticka is a very smart person, wise, experienced and will masterfully get things done in the legislature for his district if elected. I urge you to support his candidacy in any way you can. He's worth it and could help us regain control of the House and create evidence-based, positive change for the community he represents and the state.