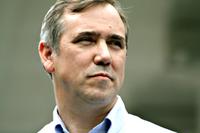 Oregon doesn't have a U.S. Senate race in 2012, but that doesn't mean that the Republicans aren't laying the groundwork for the 2014 race against Senator Jeff Merkley.
Just check out this not-exactly-veiled threat from Oregon GOP spokesman Greg Leo, via the O's Charlie Pope:
"Jeff Merkley is a freshman senator and is very vulnerable in Oregon because he didn't win by that large of a margin (in 2008), and because it's a brand new fundraising environment with Citizens United," said Greg Leo, spokesman for the Oregon Republican Party. ... "We'll have money given from all over the country," Leo said.
That's right, folks. They're already planning to roll in with big SuperPAC money to defeat Jeff Merkley.
Now, as far as I'm concerned, Merkley's turned out to be one great Senator - unafraid to take strong progressive stands on Afghanistan, campaign finance reform, filibuster reform, employment non-discrimination, and putting jobs at the center of the budget debate.
Of course, money isn't everything. After all, Merkley spent $6.5 million in 2008 against Gordon Smith's $12.8 million - and there was even more on Smith's side when you add in all the independent money flooding in.
That said, Merkley's going to need all the help he can get. Here's what I suggest: Sign up to be a monthly donor. Just $20 a month from now until Election Day 2014 will add up to $620. A few hundred BlueOregon readers that do that will make an enormous difference.