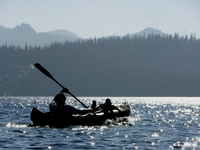 Many thanks go out to the members of the Oregon Marine Board, who on Tuesday voted 3-2 to protect one of Oregon's gems: Waldo Lake. The board voted to retain the prohibition on gasoline-powered boats on Waldo, the second deepest lake in the state. The lake is bordered by wilderness on three sides.
As the Eugene Register-Guard argued:
The arguments in favor of the ban are so overwhelming that it's surprising the board decided to revisit its 2010 decision to ban internal combustion engines on the high-altitude lake, located 20 miles east of Oakridge...

Imposing the ban was no arbitrary decision. It was the result of more than two decades of intense debate that included multiple administrative actions, lawsuits, appeals, public hearings, political battles and, in the end, the necessary personal involvement of Kulongoski, a longtime supporter of the ban...

The first and most important reason for the ban is the need to protect the lake's extraordinary purity. Waldo is a lake unlike any other in Oregon — or the nation. Its clarity and the purity of its water are unsurpassed. The Atlas of Oregon Lakes aptly describes its purity as "that of rainwater in a pristine environment."
The Marine Board got more than 4,000 comments on the issue, mostly supporting the ban, including a letter from Governor Kitzhaber.
When I next visit the lake, I'll give thanks to the good people at Onward Oregon, Oregon Wild, Oregon Chapter Sierra Club, and Environment Oregon, and to all the citizens who took the time to weigh in on this contentious, hard-fought issue.
The motor-free lake may still be at risk; a legal challenge is pending in the Oregon Court of Appeals. Yet on the other side, groups are working to expand the wilderness around Waldo Lake.
For now, enjoy the pristine lake, and raise your glass to the power of grassroots action in protecting Oregon's gems.