I'm starting to wonder if 2012 isn't going to be the year that women have an extra impact on the political landscape. Certainly, Mitt Romney and the GOP seem to have inspired women to run away from them in droves.
So, it would seem, has Mike Schaufler.
A group called "Women for Reardon" has been formed and includes some very high profile names from Clackamas and Multnomah counties, banding together to endorse Schaufler's opponent Jeff Reardon in his primary race for House District 48.
Supporters include former Governor Barbara Roberts, former Labor Commissioner Mary Wendy Roberts, Lori Miles Luchak-President of Miles Fiberglass, State Senators Ginny Burdick, Elizabeth Steiner-Hayward and Jackie Dingfelder, State Rep. Alisa Keny-Guyer, former Oregon City Mayor Alice Norris, Rose Holden, owner of the Oregon City Golf Club, and Annette Mattson, Reardon's wife and a member of the David Douglas School Board.
The group issued a press release today stating that Reardon is the one candidate in the race clearly on the side of women "in the broad array of issues facing them today including women's health care and reproductive rights, domestic violence, foreclosure relief, affordable housing, economic equity, environmental protection, education and other issues critical to women in particular."
As I've mentioned previously, Schaufler has been endorsed by Planned Parenthood and NARAL in Oregon, despite some pretty horrible optics. The women endorsing Reardon said in their press release that they are "highly disturbed at recent endorsements Schaufler received from a number of organizations despite Schaufler's flaunting use of campaign funds for bar tabs and personal expenses, his groping of a woman at a convention last year and his votes on the floor of the Oregon House where he often was the only Democrat to turn his back on working families while siding with banks and other corporate special interests".
Women for Reardon go on to note that Schaufler sides with big mortgage lenders, taking thousands of dollars from special interests while doing very little to actually create jobs. From lousy votes on education to being outright ridiculous on pro-environment legislation, Schaufler has built a horrible record in the legislature.
At the same time, the group says it believes Reardon will stand with women on these issues.
This group endorsement comes at an interesting time, given than Planned Parenthood's mailer for Schaufler hit doorsteps in the district this week.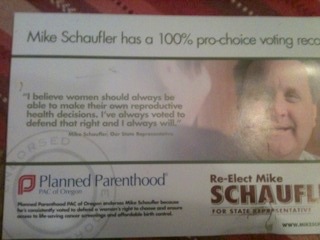 I've personally felt compelled to tell Planned Parenthood that I can no longer support them due to their choice to endorse Schaufler. I also suspect a lot of other women in the area feel as I do. I suspect that NARAL and PP will have some work to do to recover with people after this primary is over.