Especially in the uninsured and underinsured population, there's a critical need for inclusion of women's health care services. We see advanced cervical cancer rates that should not be seen in this country. — Sharon Meieran, Candidate for HD 36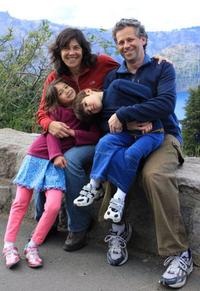 In public policy, it's hard to maintain both innocence and seriousness. For today's emergency room doctor, it's hard to maintain any innocence at all. House District 36 candidate Sharon Meieran strikes the balance between these two dichotomies -- an idealist looking to serve the greater good and pragmatist seeking to advocate for real solutions to crises in our community.
Meieran is no stranger to these — she sees them every day in the emergency room. But this is no one issue candidate. In fact, Meieran deftly underscores that the lack of the safety net in our community as a whole has left staff in hospital emergency rooms trying to patch one together. Meieran sees the cumulative impact of the recession and rising health care costs in her work: substance abuse problems, violence in homes and our neighborhoods, lack of access to quality food and nutrition, under and uninsured patients coming for care only when problems are acute, and the list goes on and on. Many doctors might be satisfied with applying their practical expert knowledge to solve the immediate health problems at hand. Meieran, however, sees a system near its breaking point at just the same time that Governor Kitzhaber and the Oregon Legislature are setting out a vision for the future of health care in our state.
Meieran's decision to run for office mirrors her unique path of deciding to go to medical school. After graduating from law school and working as an intellectual property lawyer, Meieran felt the tug of wanting something more. She didn't feel fulfilled and wanted to be helping people more directly. She thought that diving into juvenile justice advocacy as a Court Appointed Special Advocate and volunteering for a children's advocacy crisis line would fulfill that need, but it only intensified her need for a change. This advocacy work led her to consider Medical School to pursue psychiatric care for children with mental health issues.
But Medical School opened up a whole new world for her — once she did a rotation in the ER, she was hooked. Meieran says of her first experience, "You never saw the same thing twice. It was energizing and interesting." Working in a challenging residency program in Cincinnatti, Meieran learned quickly that she was not one to accept the status quo and often found herself in trouble for speaking her mind on ways to do things better.
After completing her residency along with her husband, whom she met in medical school, Meieran and her family relocated to Portland. "I had spent a lot of time in Portland throughout my adult life and I just felt like I belonged and was supposed to be here," she says of their relocation.
Though working in the ER and raising two young kids keeps her busy, Meieran also currently serves as President of the Oregon College of Emergency Physicians, on the Executive Board of the Medical Society of Metropolitan Portland, and on the Oregon Medical Association's Legislative Committee. Meieran has also been a leader on legislative efforts (both testifying in Salem and authoring an Op-ed for the Oregonian) for prescription drug monitoring, abuse and misuse being an increasing public health crisis.
And Meieran is committed to fiercely opposing any legislation that imposes on a woman's right to choose. She says, "Especially in the uninsured and underinsured population, there's a critical need for inclusion of women's health care services. We see advanced cervical cancer rates that should not be seen in this country. And not being able to choose when they will become a parent is the #1 reason for women to fall into poverty, so they are the ones who desperately need access to services like Planned Parenthood." She supports the Oregon Foundation for Reproductive Health's "One Key Question" — "Do you want to become pregnant in the next year?" She sees it purely as a matter of health, simply a standard conversation between physician and patient. As a physician, she has the unique opportunity of removing the fear and rhetoric for patients around this often-loaded issue and simply walking them through answers to their own questions about their health while she does what she's supposed to do — provide high quality care.
But it's not just her experiences as a doctor, which have led her to action in the community. She has also served three terms on the PTA board of her children's school, where she is now Co-President.
Her journey to education advocate follows much the same ethic of that of her health care advocacy, but she was able to experience the education system through the lens of recipient rather than provider. Meieran's children attend public school in SW Portland. She says, "You immediately see the parallels— ours is a very fragmented education system where we don't invest in kids early on or on the ongoing development to get them through." She sees significant overlap between those in our education system who are not getting the support they need and the later patient populations that overcrowd the ER. Her vision for education is one of integration and continuity. Says Meieran, "We need to think Pre-K all the way through higher education and providing vocational training and alternate paths." And she says our woes in education are not just a delivery issue, they are a funding and revenue issue. The challenge she says is that "though most everyone she talks to on the doorstep is willing to pay more, they want to be sure the money goes to the right thing."
Meieran finds knocking on doors to be the most inspiring part of the process of running. She says, "It makes me feel like I do have the right priorities and the things I am passionate about and can bring my experience to bear on, are the things that are on people's minds. People really do want to engage. When you talk about health care (or education), it's the same thing, everyone has a story…it's really moving that people share these experiences with me."
Though her work requires her to lead with her head (something she attributes to her father's insistence on always making systems work more efficiently and effectively), Meieran is driven by her heart (her artist mother's service-oriented ethic instilling the need to take care of other people). HD 36 is blessed with a choice between two talented and committed public servants in the Democratic primary (and Emerge Oregon graduates!). Sharon Meieran's unique background and her balance of idealism and pragmatism are what is needed at this time of transformation in Oregon.