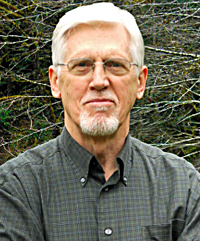 It's been two weeks since the primary election, and the election result that continues to reverberate around the country is the win by Jeff Reardon over Rep. Mike Schaufler in the HD-48 Democratic primary. Along with all the local coverage, the story's been picked up by Mother Jones magazine and was front-paged at DailyKos over the weekend.
It was an extraordinary achievement. After all, it's been more than nearly 20 years since a Democratic incumbent was knocked off in a primary in Oregon. And it was only possible because of an unprecedented coalition coming together to defeat Schaufler and a confluence of events that DailyKos's David Jarman called "a perfect storm":
First, a candidate worth beating. Rep. Schaufler made himself a political target through his votes - on health care, environment, foreclosure reform, and tax fairness. Because of his personal troubles - spending campaign cash on bar tabs and the allegations of sexual assault - he made it hard for his friends to stand next to him. And he became a lazy campaigner, relying almost entirely on lobby fundraising. For incumbents, raking in campaign cash from the lobby is relatively easy, but if that's all a legislator does, the campaign strucutre will atrophy in place.
Second, a credible opponent. With experience as a military veteran, in the private sector, as a school board member, and as a high school teacher, Jeff Reardon had the kind of life story that appeals to voters. He was able to communicate his story and values in a credible way, and out regular-guy an incumbent whose regular-guy attitude was always part of his appeal. And most importantly, Reardon was willing to work hard - raising money and hitting the doors and phones. Given all the outside help pouring in, some candidates might think they could coast, expecting others to do the heavy lifting. (I've seen that happen before, and it never ends well.)
Third, favorable terrain. In redistricting, HD-48 shifted to the west - giving up much of Happy Valley and the Powell Butte area, and picking up Mt. Scott and parts of north Clackamas County west of I-205. More important than any particular ideological arrangement of voters was simply the fact that 60% of them were new to the district - with no particular attachment to Schaufler.
Fourth, the endorsements of a dozen legislators. Incumbents get challenged all the time, usually by people who have no business running for office. Primary voters have well-tuned "crazymeters" that tend to give huge weight to incumbents. While Schaufler and Reardon had roughly equal numbers of endorsements from sitting legislators, they were immensely more important to Reardon - both as a signal to primary voters and a signal to institutional players that he was credible. (More than one observer mentioned to me the critical role played by Rep. Alissa Keny-Guyer in pulling together the legislative endorsements for Reardon. Keny-Guyer, of course, was just appointed back in September - so this effort on her part demonstrated a high tolerance for risk and an impressive bit of execution for a rookie. Stay tuned, folks.)
Fifth, the monster coalition that arrayed itself against Schaufler. I've never seen anything like it in a legislative race in Oregon.
The Oregon League of Conservation Voters identified Schaufler early as a target. After all, he'd been the worst-performing Democrat on the Environmental Scorecard year after year. More than that, he'd gone out of his way to frustrate environmentalists on their key priorities and leverage his position as a committee chair and in the 30-30 House to push his own anti-environmental agenda. OLCV decided to go in big with a huge direct mail campaign.

The Working Families Party of Oregon went all-in as well. The WFP hit the doors with a well-trained paid canvass. Ultimately, they knocked on over 14000 doors, made over 9000 calls, and contacted over 5000 voters in the last five weeks. As the WFP's Steve Hughes told Mother Jones, "It was the kind of race where strategically speaking, a party such as ours knocking on doors and making a lot of phone calls could have a lot of impact." In addition, the WFP played a huge coordinating role - helping bring along others and keeping folks organized. More on that from the O's Jeff Mapes here.

The unions that stepped up to support Reardon helped make it clear that Schaufler wasn't going to get to own the "jobs candidate" brand. In particular, the early support from UFCW and the Operating Engineers was critical to Reardon; as was the support from the District Council of Laborers (which had been Schaufler's union). Schaufler hung on to the AFL-CIO and (inexplicably) OEA, but the labor support that Reardon won was more important to him than the support held onto by Schaufler.

National progressive organizations also saw an opportunity to make a difference. After polling its members in the district (who supported Reardon at a 98% clip), MoveOn.org helped raise awareness in and around the district through repeated emails and mobilized volunteers to help with the field campaign.

Another pair of national progressive groups - Progressive Kick and National Nurses United - came in with a huge online advertising buy. Promoting TheRealMikeSchaufler.com, the combined effort branded Schaufler as someone who "Talks like a Democrat. Votes like a Republican." My firm produced the online ad campaign, and I can tell you that we basically bought every bit of ad inventory we could buy that could be targeted (mostly) inside the district. At roughly $12,000 over two weeks, it was roughly the kind of carpetbombing saturation level you'd get if you spent $150,000 in a congressional district, or $750,000 statewide. (Full disclosure: My firm produced the ads for PK/NNU. I speak only for myself.)

And, of course, I'll end where I started - with the extraordinary effort of Jeff Reardon and his campaign team. Reardon didn't get into the race until the end of February, a terribly late start for an election that would see voters getting ballots in late April. More than one observer told me that his campaign manager, Edward McGlone, was very focused and driven. All the more impressive because it was his first time managing a campaign. Not only did Team Reardon spin up a campaign in no time flat, but they did it in the eye of the hurricane, and with folks like MoveOn, MotherPAC, OLCV, and the endorsing labor unions pouring in volunteers.
Looking ahead, the lessons here are clear: When focused and organized, progressives can win Democratic primaries against entrenched incumbents. Help from the incumbent in the form of laziness, scandal, or unlikability (or all three) is useful, of course. And it takes an all-hands-on-deck approach, with multiple partners contacting voters through multiple channels - on the doorstep, in the mailbox, on the phones, and online. Now, it's my hope that these sorts of primaries are rare - after all, when an incumbent is that far out of step with his/her district, it represents failure on a lot of levels.
In his victory speech, Jeff Reardon said, "I always believed we could do this. I said that from the beginning. I said it because I didn't know what I was talking about. I always believed it could happen. Logical and informed people said no, it could never happen -- so, take that!"
Indeed.