Once the candidates for mayor had given their speeches on Tuesday night, most folks stopped paying attention to the vote count. But if that includes you, you've missed out on one of the big stories in the mayor's race.
Check it out. Here's a chart that shows how the vote count shifted from the initial 8:01 p.m. count on Tuesday night to the eighth count late last night.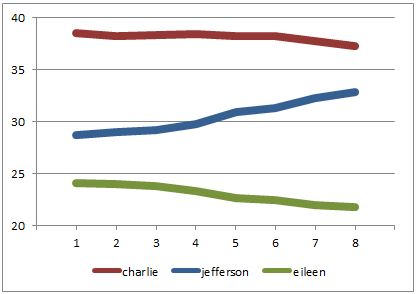 That's right. The initial count was Hales 38.5, Smith 28.8, Brady 24.1 The eighth (and very nearly final) count has it Hales 37.3, Smith 32.8, Brady 21.8. As the count progressed, Charlie Hales's margin over Jefferson Smith collapsed from nearly ten points to less than five points.
Everyone went to bed on Tuesday night thinking that Charlie Hales had sole ownership of frontrunner status - with Jefferson closer to Eileen than to Charlie. It's clear now that this is going to be a lot closer of a race heading into the fall campaign.
Clearly, two things happened: 1) Late-deciding voters broke hard for Jefferson Smith (and against Eileen Brady.) 2) The Smith campaign did a great job turning out their vote.
In the fall, the electorate in Portland will trend younger, more diverse, and even more progressive.
Anyone who thinks this is a slam dunk for Charlie Hales need to think again.