Unless someone's grabbed hold of state treasurer Ted Wheeler's facebook password, it looks like y'all should get downtown in the next hour: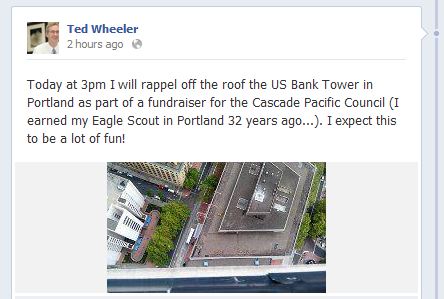 Click through to read the comments on his page, starting with "Excuse me - are you losing your mind?"
Of course, while he's all about prudence when it comes to government finances, he's always been a risk taker in his personal life -- having summited Mt. Everest and snow-shoed to the North Pole.
The US Bancorp Tower (aka "Big Pink") is 42 stories and 536 ft tall, and is the second-tallest building in Oregon.
I'll resist the temptation to outline the state succession policy for you.
Good luck, Mr. Treasurer.
Update: 3:50 p.m. On his Facebook page, Ted just posted "I made it safely...Awesome experience!" Phew.