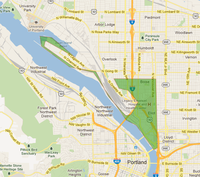 I am a part of the problem. I would like to be part of the solution.
The chart to the right is a table of the 25 most "whitened" zip codes in the country. Michael J Petrelli, Executive VP of the Thomas B Fordham Institute and an education policy analyst, did a rough examination of census data to come up with this table. As he cautions, this is not hard evidence; it's his perusal of census data and lacks the rigor he would use in his own academic work.
It's not rigorous, but it's close enough.
When I see headlines like this (I found the link in Flipboard), I take a casual glance to see if Portland's mentioned, hoping, in cases like this, that we are not. So you can imagine my chagrin when I saw my freaking zip code sitting at #24. And while the numbers are not completely awful — this is still a "minority majority" community — the numbers are going in the wrong direction, too far and too fast.
Given that I now live here, having moved in two months ago, I am indeed part of the problem, even if I did replace a white tenant. Here is why I think the number and trend are a problem and something Portland must address.
97227 is at the south end of "NoPo", the wedge of the city bordered on the east by N Williams and the west by the Willamette River. I love living here. The diversity of the place is wonderful, even if problematic. Like most of North Portland, there are pockets of wealth throughout the area, but for the most part, 97227 is working class. Or has been. Between "gentrification" of older homes by young couples and families and the development of condos and apartments to bring in ever-increasing numbers of young people, the nature of this area is shifting rapidly. Petrelli's numbers indicate the extent to which this change is occurring.
Prior to joining the Eileen Brady campaign last year, I was ignorant of the nature of gentrification and related issues in Portland. I had heard some of the facts, the number of people moving from North and Inner Northeast Portland to east county and such, but it hadn't registered in my mind in a meaningful way. However, because I attended numerous mayoral forums where these issues were discussed by members of the affected communities, I began to understand what has been happening for too many years. I'm the wrong person to speak of the nature of these issues, for many reasons, but suffice it to say I received a good education in the sociological and human impacts of NoPo gentrification.
When I moved here in April, I did not buy a house and displace a family; I rent a unit in a triplex. I have to live somewhere, and I ended up living in NoPo, across the street from Unthank Park, just because this is how my rental experience turned out. Whether or not I moved here has no impact on the larger changes going on our city. I'm just another white middle-class man living in an area that is one of the few parts of Portland to have been an historically black neighborhood in a city that is overwhelmingly white. Like I said, I have to live somewhere. We all do. And we live where we can afford, where the lifestyle suits us, where opportunity opens a door. The "whitening" of 97227 is not the fault of those who have moved into the homes and added to the process and pressure of gentrification. They're just people living their lives as best they can.
I'm not sure how much, if any, the City of Portland should be blamed for its failure to take steps to protect the extant nature of areas like 97227. A lot of this is beyond the ability of the City to affect: the great recession, economic development that benefitted certain people and not others, real estate prices and opportunities. Like so much else in life, the influx of white residents and the concomitant flow of African-Americans to the east came about because the City, lead among a host of influential entities, did not see the problem, did not consider the possibility, did not take steps to help preserve the historic nature of neighborhoods like 97227.
It just happened. I don't think there was any intention behind the changes, but there was certainly no intent to protect and preserve these neighborhoods.
Now that it has happened, and now that gentrification (not to mention hipsterization) of these communities is drastically reshaping Portland and Multnomah County, we have to act. One need look no further than the anger over the plans for N Williams' traffic to realize that not doing anything is unacceptable. We need economic development policies that benefit the people who have lived in neighborhoods like this for generations, that allow the historic nature of these communities to be maintained to the extent reasonably possible. Portland needs to provide those at the lower end of the economic ladder with a buttress against the tide of other people's incomes. Uprooting people just because they can't afford rising market prices can no longer be acceptable.
I don't have the answer, other than the most obvious: more and better-paying jobs for the people who live in NoPo. Housing policies that keep people in their neighborhoods. Development that does not displace. We may have stumbled into these circumstances but we have no more excuses. We either address the need directly or all the blame we might have side-stepped before will be inescapable.
And Portland will be an uglier city for it.