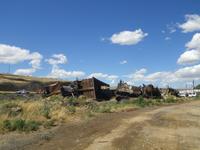 On July 2nd another coal train derailed in eastern Washington, just 30 miles north of the Columbia River, spilling hundreds of tons of fine coal powder en route to a west coast port for sale across the Pacific.
Fortunately no one was injured. But this is our canary in our coal mine.
(The Oregonian now reports BNSF spokesperson Gus Melonas attesting "no more than 900 tons of coal were spilled")[http://www.oregonlive.com/news/index.ssf/2012/07/eastern_washington_coal_train.html] in the 30-car derailment and that the Federal Railroad Administration has been called in to investigate "condition of the tracks, operating practices and equipment."
With three new proposed coal export terminals steamrolling their way into Oregon's smallest ports, and three more targeting small ports in Washington state, we all can see what's rolling down the tracks: more trainwrecks.
Where will the next derailment occur? On the Steel Bridge as coal trains skirt down to the Port of Coos Bay? On the Amtrak/Burlington Northern bridge over the Columbia on the way up to the Port of Bellingham? Or will it be in Hood River, or on the way past Longview?
It's anyone's guess. And it's everyone's fight.
The coal, after all, isn't for us.
The energy from coal exports will be used to power overseas job and overseas profits with the added advantages of non-union labor and uncontrolled air pollution.
As if coal exports weren't bad enough in an economic vacuum, because the prevailing winds carry the toxic coal pollution across the Pacific back here to the northwest to be deposited with the rains into our own backyards, lakes, and rivers means that increasing coal exports overseas will increase our toxic mercury problem here at home in the Northwest.
It's a train wreck ahead alright, but there's still time to switch what we let roll down the tracks.
Find out who's already join the fight to keep big coal companies out of the northwest, and what you can do here.
---
Editor's note: We're happy to announce that Mike O'Leary has decided to join us as a regular contributor, after a series of excellent guest columns in recent months. Learn more about Mike here.