Seriously, Allen Alley?
Oregon GOP chairman Allen Alley believes Oregon and its seven electoral votes could send Mitt Romney to the White House.

The scenario is a distinct possibility if Romney defeats Barack Obama in five of the "battleground states," he said. ... Alley's strategic map lists Indiana, Ohio, Virginia, North Carolina and Florida.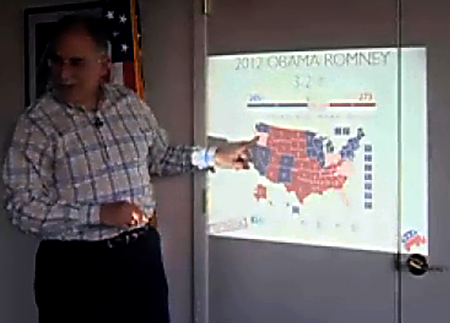 Yeah, right. In Allen Alley's fantasy world, Mitt Romney's going to win Indiana and North Carolina (ok, sure), plus Virginia (iffy), and both Ohio and Florida (tough) -- and do that WITHOUT winning a single other swing state from Obama's '08 lineup -- New Hampshire, Nevada, Wisconsin, Pennsylvania, Colorado, or Iowa.
Seriously, man. It's getting comical. If Oregon is in play, then that means Romney's already won.
And besides, how is the Oregon Republican Party going to deliver Oregon to Romney when it can't even afford a projector screen?