"A programmatic EIS, or any type of EIS the Army Corps conducts, must be comprehensive in nature, and consider both local and global issues raised by the public." ~Senator Jeff Merkley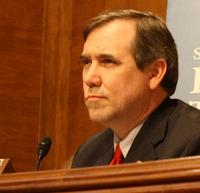 Anyone concerned about climate disruption, public health, and the questions about what sectors of our economy deserve public subsidy are turning their attention to the three proposed coal export terminals in Oregon and the three more in Washington state.
Will the clean and green northwest turn in to coal country?
Today Senator Jeff Merkley went public with a strongly worded statement about coal exports that is earning high praise.
Anne Gravatt, the Oregon Director for Climate Solutions said today that Merkley's position "is exactly what we'd expect from a long time leader on climate and clean energy."
The controversy over coal is uniting an increasingly broad coalition of concerned community members.
State and Federal regulators are expected to rule on relating permits and initiate environmental review processes in the coming months.