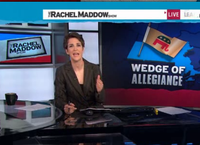 Last night, Rachel Maddow covered the story of how Ron Paul supporters in Massachusetts won election as delegates to the Republican National Convention -- and then were told that unless they signed an affadavit swearing to support Mitt Romney "under pain of perjury", they would be replaced as delegates. Which is exactly what happened. This action, of course, was in contravention of the MASS GOP's rules for delegate selection. But they will have a slate of delegates who will support Romney.
Sound familiar?
Rachel didn't cover Oregon's mess, but her story did explain why OR GOP Chair Allen Alley and his compatriots decided to throw out their own rules and simply appoint delegates to the RNC: Ron Paul needs but one more state to have his name put forward as a GOP nominee for President. If that happens, Paul would get 15 minutes to speak before the first round of votes -- on national tv -- and Mitten's coronation threatens to become a nasty slug fest. Nebraska is in the limelight for the coming weekend; now that Massachusetts and Oregon have thrown out their rules to load the deck for Romney, we'll be watching to see if Nebraska plays honest or also chucks the rules for Mittens.
While the Oregon debacle slipped below the national radar -- well done, Chair Alley! -- Massachusetts resident Maddow did not miss what happened in her home state. The events in Massachusetts also had better video, particularly of an 18-year-old who beat the 2010 GOP nominee for Governor for an alternate delegate slot. The young man was denied that seat by the MASS GOP's shenanigans, so, last night, had him on her show to talk about this kerfuffle.
Hopefully her show will take note of what happened in Oregon and give that a mention, too, because it's all part of a desperate attempt by the Romney campaign to block Ron Paul from appearing at the convention. I'm no fan of Paul, a charlatan who would do incredible harm to the nation and our democracy; but if this embarrasses Mittens and the GOP, and if it helps voters see the kind of people they'd be supporting by voting Republican, then laissez les bon temps rouler.
After the jump, both videos from the July 9 Maddow show.
(Maddow, of course, is not the only media source to miss the Oregon story. The Oregonian makes no mention of it, at least none that I can find. Anyone care to bet they don't endorse Rmoney?)
Visit msnbc.com for breaking news, world news, and news about the economy
Visit msnbc.com for breaking news, world news, and news about the economy