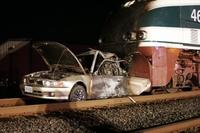 As a long time Milwaukie resident and former City Councilor, I'm offended by what's happening in my own back yard. On the morning after a Republican National Convention where not a single mention of the tea party was made from the podium, pundits are already trying to write its obituary, yet it's alive and well in Clackamas County.
The Tea Party has way too vocal of a presence here in the Portland area so we can't rest on our laurels and let them have their way. They've teamed up with the self-described sex hypnotist Loren Parks from Nevada to fund a county wide ballot measure that would prohibit any funding from being spent on rail in Clackamas County. They're so fired up, they even made the county plunk down $125,000 to have a single issue election – the ballots come out as early as today and are due back on September 18th.
The Clackamas tea party rants and raves that they are the majority. They are not; they are nothing more than an angry, vocal minority. Yet the Oregonian, in the midst of a year where they've taken a hard right turn, praises them as rebels. They are not rebels. They are schoolyard bullies. They stand up and yell when it's their turn to talk. They stay seated and yell when it's their opponents turn.
The current measure at hand, Measure 3-401 would prohibit an unknown number of future actions. The County couldn't dispatch emergency responders to legitimate emergencies, such as the train that ran into and dragged a car on fire in Canby in 2008. They couldn't even spend $800 to trim the trees over an existing trolley line without a $125,000 county-wide vote.
All of these unintended consequences are because a small faction of unrepresentative and uncivil residents are worried about the change light rail might bring to an area deeply in need of the economic revival that rail can provide. I don't fear improvement. Neither should you. So my fellow travelers, if you live in Clackamas County please reject this poorly written measure. Join me in standing up and telling the bullies no. The ballots are due back on Sept. 18th