Koch Industries is the second largest privately-held company in America. The Koch brothers - Charles & David - are among the biggest political donors on the right wing, pledging $60 million to defeat President Obama and $400 million in total right-wing spending this cycle.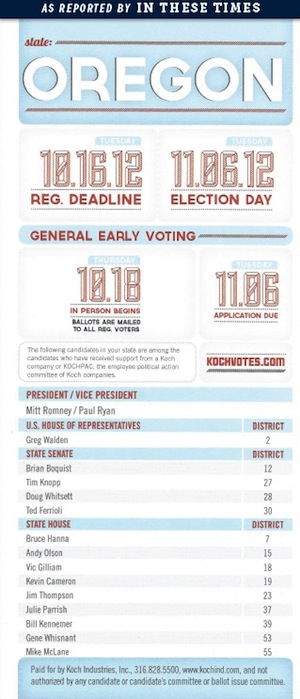 Koch Industries recently sent a mailing to all 45,000 employees of their subsidiary, Georgia Pacific, many of whom live in Oregon. The mailing, according to In These Times, included a list of recommended candidates - and this dire warning:
If we elect candidates who want to spend hundreds of billions in borrowed money on costly new subsidies for a few favored cronies, put unprecedented regulatory burdens on businesses, prevent or delay important new construction projects, and excessively hinder free trade, then many of our more than 50,000 U.S. employees and contractors may suffer the consequences, including higher gasoline prices, runaway inflation, and other ills.
The Oregon candidate insert is at right. As In These Times notes, this kind of employee communication is new:
The Koch's in-house campaigning for the GOP is part of a larger trend of corporations exercising new freedoms under Citizens United. The Supreme Court decision overturned previous FEC laws prohibiting employers from expressing electoral opinions directly to their employees.
There's more from the PCCC, Think Progress, and MSNBC.