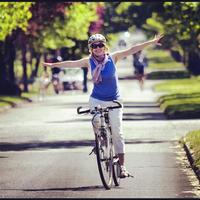 Written in collaboration with "Write In Eileen" Facebook page co-founders.
We write today to explain why we have taken the extraordinary step of launching a campaign to write in Eileen Brady for Portland Mayor.
We've read the plethora of articles written on Portland's Mayoral race. Fundraising records have been broken, more than once, in this hotly contested race. Media coverage has voters on the edge of their seats wondering what they will pull out of closets and driving records. And between the fact that only 35% of registered Portland voters returned their ballot in the May primary and the self-inflicted wounds of the two candidates on the ballot, many voters ars so frustrated with these two choices that, despite a write-in vote being for someone who won't win, that's exactly what many Portlanders are declaring they are going to do.
The primary election was a hard-fought, very long, very expensive, and very draining endeavor for the three front-runner campaigns. In the end, the candidate for whom I (T.A.) worked part-time and we all volunteered for extensively, finished third. Why we lost is something we have talked about among ourselves and with others for months. Even among her closest supporters, thoughts on why we lost vary. Whatever the reasons, once the primary dust had settled, Eileen was the odd candidate out.
This was not an ordinary political defeat for us. It was personal. Eileen was more than a candidate; during the course of the campaign, she'd become our friend and we'd grown to love her. Losing on May 15th hurt — a lot. There were those among us who decided immediately that they would be writing in Eileen in the general election. The practicalities of an organized write-in campaign, however, were more than any of us had the energy, ability or will for. So no organized write-in campaign was launched following the May defeat.
Then came the summer and all the embarrassments. Local media has done a more-than-sufficient job in detailing the candidates' missteps; social media has done a good job of rubbing their noses in it. For many of us who had worked so hard for Eileen, the events of the past few months did nothing but confirm our belief that she was, and remains, the best candidate for Mayor.
And we began to realize something extraordinary: this belief was not limited to a few die-hard true believers. Each of us heard from and spoke to people all summer who had the same message: I'm writing in Eileen. We heard this from volunteers, from voters, from elected officials, from people who, like us, could not bring themselves to waste their vote on a candidate they didn't support.
Finally, we realized that writing in Eileen was not only the right thing for each of us to do, but an option we needed to offer to the rest of Portland. After a few days talking about it, and with ballot-drop approaching, we decided to take the plunge. We launched "Write In Eileen" on Facebook, which, to be honest, is about 90% of the campaign. In 2012, of course, a Facebook page is often enough.
We want to emphasize one fact: This campaign has been launched and is being conducted without any communication with Ms Brady about her thoughts on the matter. Her husband, Brian, has liked the Facebook page, but so, too, has her mother. And she has raised no objection to the effort, probably in large part to knowing one simple fact: she's not going to win.
(Hell, she might not even be eligible to serve, but we'll deal with that if by some small miracle she does win.)
Winning: it's irrelevant. We're not in this to win this. We started this campaign because it's the right thing for us to do. We want other supporters to know that voting for Eileen isn't a waste of time or a waste of their vote. By combining their vote with others in Portland, they won't necessarily be voting for the winner; after all, about half the votes cast for Mayor will not be for the winner. But by writing in Eileen for Mayor, they will be part of what can best be called a statement vote: We support both the ideas and programs Eileen promoted in her campaign, and we support the woman herself. She was and remains, we believe whole-heartedly, the most qualified candidate for Portland Mayor:
25 years of progressive leadership in Portland
Professional, managerial & entrepreneurial experience
The ability to bring together diverse stakeholders and deliver a proposal that brought health care coverage to 85,000 Oregon children
A command of the issues that convinced unions, business associations, entrepreneurs, civic leaders, elected officials and thousands of citizens to endorse and support her candidacy
A proven commitment to the people she's met and worked with over the years
Her guts, her intelligence, her authenticity, her grace
Join us. Cast a vote for the candidate who never embarrassed herself or her supporters. Cast a vote for the candidate who has given over 25 years to making Portland a better city. Cast a vote for the candidate who, alone of the top three on May's ballot, actually lived the life of the 98% / 47%.
Write in Eileen Brady for mayor.
It's not too late to make the right decision.