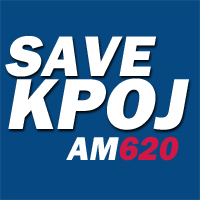 On Friday, we learned that KPOJ's corporate parent, Clear Channel, had decided to flip the format from progressive talk to all-sports.
As someone who appeared nearly every Tuesday morning on KPOJ for seven years - and was their longest-running weekly guest - I'm well aware of the power and reach of KPOJ. It really was a critical gathering spot for our progressive community.
I've been besieged by calls and emails over the weekend, with regular listeners wondering why the local morning show is gone - and upset about the loss of Ed Schultz, Randi Rhodes, and so many others from the local airwaves.
So, I decided to do something about it.
You can become a Facebook fan too.
I believe that we can reverse this decision. It won't be easy, and it won't be fast. But by demonstrating that KPOJ's progressive audience is dedicated and large, we can get Clear Channel to reverse course. And if they won't budge, then we'll demonstrate to another company, another station that there's an audience here for progressive talk.
(And yes, I'm well aware of KBOO. Great stuff, there. And we should support it. But I think we need more voices, not less.)
So, sign the petition and join the Facebook page. And tell your friends. Let's start a ruckus. We can do this.