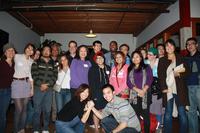 Oregon's communities of color have doubled in the last 20 years, and we're seeing the beginning of significant changes in the civic engagement landscape. Here are some highlights in the 2012 election cycle:
Voter Registration - Thousands of new voters of color, especially Asian, Pacific Islander and Latino (Oregon's fastest growing communities) got registered to vote. A new wave of community based organizations have developed strong civic participation programs and conduct important non-partisan community organizing that is mobilizing the rising electorate of color. Volunteers were working ethnic food stores, partner groups and cultural events and building an increasingly powerful civic engagement network.
Voter Education - Voter guides focusing on the Ballot Measures were available in multiple languages. This cycle the APANO Voter Guide was available in Korean, Hindi, Samoan, Tagalog, Vietnamese and Chinese, along with English, and was published in the Asian Reporter, Chinese Times, Phuong Dong Times and Oregon Thoi Bao reaching over 40,000 readers. CAUSA published and delivered thousands of their Spanish-English guide.
Interestingly, all five Republican candidates did not submit responses for the APANO Voter Guide (which is officially nonpartisan and made no endorsements). They were: Knute Buehler, Shawn Lindsay, Katie Eyre, Patrick Sheehan and Matt Wand. With tens of thousands of guides being distributed to likely voters, through newspapers, countless community events, through websites and phone banks, it was a visible missed opportunity that was discussed widely in Asian and Pacific Islander circles.
Major non-partisan candidate forums were held bringing candidates to the Oregon Voice-Center for Intercultural Organizing Forum in Washington County, CAUSA Forums in the valley, Urban League Forum at Maranatha Church in Portland and APANO Roundtables at IRCO in East Multnomah County.
Voter Mobilization: GOTV Phone Banks organized hundreds of volunteers, many for the first time, to make multilingual calls to voters. At APANO, we had 10 phone banks with an average of 15 phone bankers that made over 14,000 calls with interpreters who helped hundreds of voters get their ballot turned in.
Many Oregon based groups also helped out in the Washington Ref 74 fight for marriage equality, with a People of Color canvass in Clark County, and numerous phone banks sponsored by Basic Rights Oregon that included focused in-language and outreach to communities of color.
All this work I believe contributed to the passage of the Portland Schools Bond, Multnomah County Library Bond, Measure 85 and Ref 74, and the defeat of Measure 84 that many of the groups were aligned around.
One of the more visible and lasting political changes beyond the measures is the return of people of color to the Oregon Legislature. Looks like we'll have several new faces who have the opportunity to help address the persistent and in some cases growing racial inequalities in our state.
What else have you experienced?