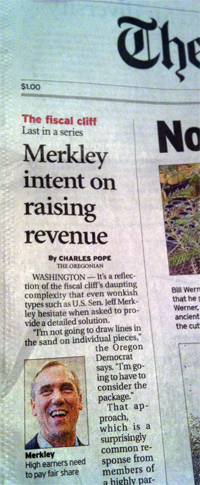 For years, I've believed that the Oregonian has a copy editor on staff who has conservative political views - and isn't afraid to write headlines that don't match the stories they top. (For the uninitiated: reporters write the stories, copy editors write the headlines.)
Back in 2006, for example, there was that famous headline - Smith stands for beliefs on middle ground - when the story itself made clear that he votes with his party's leadership 80% of the time.
And of course, earlier this month, when the Oregonian went with a big dejected sigh, "OBAMA KEEPS JOB". Despite their well-documented financial troubles, they couldn't even be bothered to try to sell souvenir copies to all the excited Obama fans in Portland.
Well, the right-wing headline writer has struck again. This time, it's "Merkley intent on raising revenue". I've snapped a photo of the headline, because if you're an online-only reader, then you saw an entirely different headline:
"Merkley avoids 'lines in the sand' on fiscal cliff talks, says he'll rely on principles"
What's so bizarre here is that the story, by the O's Charlie Pope, is quite good - and very balanced. Contrary to the print headline, the story quotes Merkley as saying that he's "not going to draw lines in the sand on individual pieces". It says he's "keeping an open mind".
Now, to be sure, like just about all Democrats, Merkley wants to see "a mix of spending cuts and revenue increases", but the print headline suggests that Merkley is all about the latter, and not the former. Nor does it make clear, as the story does, that he's for tax increases for the wealthy and for oil companies. And it completely ignores Merkley's insistence that we protect safety net programs.
Now, headline writers also write the photo captions. In the print edition, the photo caption is...
High earners need to pay fair share
...which is a fair summary of Merkley's position on taxes for the wealthy, but it's incomplete. Much closer is the (admittedly longer and a smidge confusing) photo caption online:
Merkley says any agreement on the fiscal [cliff] must close the gap between the amount of money raised by taxes and spending. Those numbers should balance, he says. Spending currently outpaces tax revenue by 8 percent.
Now, I spent a little time as a copy editor back at my college daily - and I got known for writing pithy headlines. And as every BlueOregon blogger will tell you, the one thing I'll regularly edit around here are the headlines.
So, it'd be fair to ask, what headline would I have on the story? What would be a true summary of the story, factual, pithy, and inside the 30-35 characters of space on that page? Here's a few options:
Merkley: Restore fairness to budget

Merkley: Balance cuts & tax hikes

Merkley "glide path" on fiscal cliff
If you were writing the headline, what would you have written?