Jobs. Every politician runs on 'em. Every politician claims to have created thousands, and has a plan for creating thousands (or millions) more.
And claims about the numbers of jobs "created" are just about impossible to fact check. Let's just stipulate that calculating job creation estimates is going to wind up in a fog of economic theory and actuarial nonsense that lead to conflicting claims on all sides.
Which might explain why PolitiFact hasn't bothered to fact check Bruce Starr's claim - in his television advertising, in his direct mail, and on the stump - that he "championed legislation creating over 30,000 family-wage jobs."
This is not a post about fact-checking that number. Rather it's a post about fact-checking the "championed legislation" part of Bruce Starr's claim.
Here's a screenshot from Starr's ad.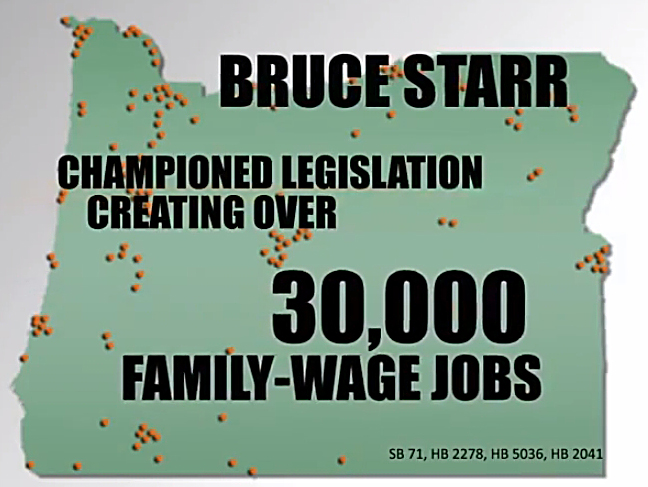 See that wee footnote? It asserts that his job-creation claim comes from his work on SB 71, HB 2278, HB 5036, and HB 2041. (Watch the ad here, it's 23 seconds in.)
Now, bill numbers get recycled, and Starr didn't cite what years we're talking about, but a little digging makes it almost entirely obvious - since lots of bills aren't about jobs at all.
Let's start with the sorta-good one for Starr. In 2003, Starr was the carrier (primary sponsor) of HB 2041. It raised taxes and vehicle fees by $350 million to pay for infrastructure projects. Good on Starr. Of course, raising taxes to pay for government spending ain't exactly something that Republicans brag about - including Starr who asserts that higher taxes "kill good paying local jobs".

In both 2007 and 2011, there were bills called HB 5036 that distributed Lottery funds to various projects. Both sailed through nearly-unanimously, and Starr appears to have had very little to do with them. And of course, both are government spending.

But here's where it gets bad for Starr: In 2007, HB 2278 was a bill that finances various transportation projects. It passed without a single No vote. But Bruce Starr didn't vote yes. In fact, he was absent, without excuse. It seems to stretch credulity that Starr could possibly have "championed legislation" when he couldn't even bother to show up to vote.

And finally, here's where Starr earns his "pants on fire": In 2005, SB 71 was another transportation project bill. Again, it passed without opposition. Who was the bill's champion? Who carried it on the floor - and made the arguments that carried the day? Was it Bruce Starr? No. It was then-Representative Brad Avakian.
So, let's sum up: Starr claims to have "championed legislation" to create jobs - but he had nothing to do with any of 'em, except the one that raised taxes for government spending. Which is the exact opposite of what Starr is campaigning on now.
If you want to discuss this one, or any other PolitiFact that you love or hate, the Oregonian's Janie Har and Ryan Kost are doing a live-chat at noon about PolitiFact's process and product.