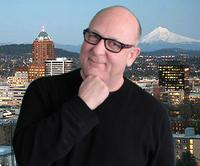 The main event on Inauguration Day was, of course, the beginning of the second half of Barack Obama's presidency.
But Inauguration Day was also the first day of Carl Wolfson's new radio show.
In order to make it happen, Wolfson set a $40,000 fundraising goal; which was met in just five days. Ultimately, the Kickstarter campaign raised over $55,000, ensuring that Wolfson's run would get a nice, strong launch.
And, of course, our campaign to "Save KPOJ" got an extraordinary response - with 16,057 petition signatures at SaveKPOJ.com and another 6027 at SignOn.org.
Another 7971 people signed a petition to Congressman Greg Walden (who happens to be the chairman of the relevant congressional subcommittee) demanding a formal congressional hearing in Portland on media consolidation and diversity of public-interest programming.
To hear Carl in the Morning, visit CarlWolfson.com, or just click PLAY below. (Soon, we'll have the link embedded here at BlueOregon full-time.)
The show runs from 7 am. to 9 a.m. every weekday. And, as always, I'll be joining Carl live on the air on Tuesday mornings - now at 8:30 a.m. The regular guest lineup will include our own Carla Axtman on Mondays, Willamette Week staff on Wednesdays, Portland Mercury staff on Thursdays, and the usual Labor Fridays with Tom Chamberlain, Heather Conroy, and Ken Allen.
Of course, net-radio isn't the same as over-the-air terrestrial radio. But have no fear, this is just Phase One of our plan to bring back progressive radio to Portland.
Listen to Carl's show, call in (toll-free 877-227-5066), tell your friends, and patronize his sponsors. Our goal is to demonstrate to potential investors that there really is a strong audience for progressive radio in Portland - even if Clear Channel and its corporate owners Bain Capital don't care.