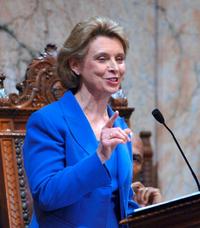 President Obama has thrown down the gauntlet in making climate action a priority for his final term in office.
But who measures up to the current bi-partisan standard of approval?
Former Washington State Governor Chris Gregoire comes to mind.
The position is traditionally held by a politico from a western state, but more than having the right geography, Gregoire has shown an affection for free-trade economis matched with progressive social values that puts her in close step with the Obama administration's values.
First rumored several weeks ago as being considered for the top job at EPA, more recently she's been mentioned as the right pick for Interior.
Here's a short list of what's at stake for Oregonians:
So what can we expect from Gregoire on this assortment of climate and conservation related issues?
As Governor of Washington, Gregoire notably fast tracked new administrative rules implementing aggressive defense from oil spills and convened a landmark commission in response to the acidification of Puget Sound.
And Governor Gregoire's Department of Ecology has maintained a helpful vigilance against the proposed coal export plans, both north and south of the Columbia River.
But she's not without a sense of compromise. During the fight a couple of years ago to shut down the coal fired power plant in Centralia she intervened and helped moderate the transition plan to be more generous to the energy companies, while still bringing early retirement to the last lingering coal power plant in Washington.
So. Will she be greener than Salazar?
We'll see what legacy the Governor of the Evergreen State will bring us.