Bill McKibben: "We're incredibly grateful for all the hard work going on against coal exports. The northwest is the choke point in keeping Powder River Basin coal from being burnt."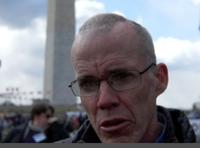 Bill McKibben just sent a message of concern about the dangers of the proposed coal exports in the northwest.
He said it plan and simple: "We've got to keep that coal in the ground."
He's dead right. For years researchers from OSU and the DEQ have documented intolerable levels of mercury pollution being generated by overseas coal fired power plants and manufacturing, first causing local pollution which has been making the news of late, which then blows across the Pacific Ocean on the jet stream right to our doorstep where washes down on us in the rains, into Oregon's rivers, lakes and streams, polluting our habitat and poisoning our fish.
McKibben called out coal exports in an interview with me at the largest climate protest in our nation's history that happened in Washington D.C. this weekend, where more than 30,000 activists marched on the White House demanding the federal government take greater steps to turn the tide of climate change. Click here for 350.org's climate rally coverage.
Now as domestic demand for coal is plummeting, the coal industry has set their sites on foreign countries with less stringent pollution controls and public health protections as their new target market. That's not surprising. It's a typical fire sale. Everything must go-go-go before the coal companies go the way of the dinosaurs.
To add insult to the global and local injuries, though, these proposed coal exports are slated to come from our own public lands at what to many appear to be quite the, ah, remarkably profitable rate for the coal companies.
Just last month Senators Wyden (D-OR) and Murkowski (R-AK) requested a top to bottom review of these federal coal leases. Now the Associated Press is reporting that a criminal investigation directed at one of the coal companies in question is already proceeding.
Can we stop a filthy rich industry like coal?
Local conservation groups like Columbia Riverkeeper, Friends of the Columbia River Gorge, and the Association of Northwest Steelheaders, just to name a few, are working in coalition with thousands of concerned community members all over the northwest.
What needs to be done?
• On the federal level it's time for the Army Corps of Engineers to take coal off the fast track and perform a complete environmental impact review of these proposals.
• At the state level it's time for Governor Kitzhaber to deny the state permits for these projects that are not in Oregon's best interest.
It's only a matter of time until China reverses it dependence on coal. Experts now predict it in just five years.
If we can keep our below-market-price American coal in the ground, forcing China to import its coal on the open market at the higher existing prices, economics will pressure the Chinese to transition to renewables even faster, helping turn the tide of climate change world wide and protecting Oregon's air and water from coal pollution.