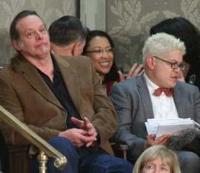 In the run-up to the State of the Union, one of the more controversial (and stupid) storylines has been that lunatic Tea Party Congressman Steve Stockman invited lunatic Tea Party rocker Ted Nugent as his guest. In the world of politics, Nugent has been known for his on-stage racist and violent rhetoric toward President Obama - and has even received a visit from the Secret Service for his efforts.
Meanwhile, what wasn't known until the broadcast got underway, is that musician Thomas Lauderdale - of Portland's world-famous Pink Martini - was invited to the State of the Union as a guest of our own Congressman Earl Blumenauer.
And either through some bizarre twist of fate or a wicked sense of humor from whichever party planner made the seating chart, Nugent and Lauderdale wound up sitting next to each other.
No word yet on whether they spoke - and if so, what they discussed. I'm working on it. It does seem pretty clear from the photo, however, that Ted was mightily uncomfortable sitting next to Thomas.
Yay!
Updated, 10:25 p.m. Thomas emailed me to describe his experience. Awesomeness:
I was totally not expecting to be seated next to Ted Nugent at the State of the Union .... but it was incredible. We talked about hunting ... in Texas (where he has lived for the past 10 years) and Michigan (where he grew up). Growing up he was inspired by Dick Dale ... and later by the British Invasion bands of the mid-60s ... The Yardbirds ... The Rolling Stones. He only tours in the summer. I asked him if he did USO tours. He has ... BUT is probably the only celebrity who carried his own machine gun. (Shockingly, I don't have a machine gun of my own.) He thought this year's Grammys were too "bubblegum" and childish. And, of all of his compositions, "Fred Bear" means the most to him ... people ask for it at their funerals, their barmitzvahs, their graduations ... "It doesn't get more "wow" than that," he said. At the end of the night, he shook my hand, and wished me luck. I thought he was a real gentleman.

To my left was a woman named Dina McKenna, who was married to a soldier who served in Iraq ... Came home, and died from the toxins released in the berms. She has become a political activist and, I think, is headed on a path in which she will run someday for office! Totally inspiring!
Updated, 11:48 a.m. Gawker picks up our story, with the super-awesome headline, "State of the Union Seating Planners Troll Ted Nugent, Put Him Next to Gay Civil Rights Activist from Portland" - and describes Lauderdale thusly:
Lauderdale, best known for founding the "little orchestra" known as Pink Martini, is the anti-Ted Nugent: A liberal, Occupy-Movement-supporting, openly gay civil rights activist who favors gun control and loves classical music.