"These cost include the public health costs of increased atmospheric deposition of mercury in drinking water sources, as well as costs resulting from increased ocean acidification…" ~Governors Kitzhaber and Inslee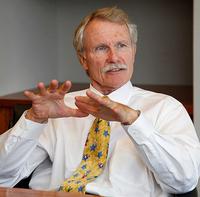 In a huge blow to coal company cheerleaders, Governor Kitzhaber along with Washington Governor Jay Inslee are now calling on the White House to see to it that federal regulators to adhere to the "strongest possible terms" of review of air quality impacts and taxpayer fairness of proposed coal exports planned for the northwest.
In their letter of March 25th the Governors make it plain that the true cost of coal exports will impact local people, business and communities.
The Governors also echoed the concerns of west coast Senators Wyden (D-OR) and Murkowski (R-AK) whether coal companies are undermining rules intended to earn taxpayers fair market value for coal from public lands.
This now gives President Obama a perfect opportunity to respond to the concerns of local elected leaders and take a decisive action on climate change that so many Americans are hoping for.
And it sends a strong signal to would-be investors in coal companies that turning the waterways of the northwest into pollution pipelines that blowback toxic soot in to our clean air that their plans are at risk of derailing.
It's a message some investors are already getting loud and clear: The northwest isn't coal country.