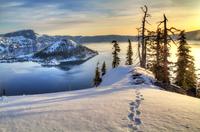 By Erik Fernandez of Portland, Oregon. Erik is the wilderness coordinator for Oregon Wild.
No matter the season, a trip to Crater Lake is an epic experience one doesn't soon forget, leaving you with fond memories and a yearning to return. Would that experience be the same if the lands surrounding the National Park were turned into a stump field? Sadly we may find out.
The Crater Lake wilderness is currently threatened by several projects that include logging old-growth trees right up to the very edge of the park. The most recent attempt is called the Bybee logging project, located on the west side of the park in the headwaters of the Rogue River. We at Oregon Wild are also fighting a project on the northern edge of the park called D-Bug. Oh, and lest we forget to mention a plan for helicopter tours to buzz around the park. Is this any way to treat one of Oregon's iconic natural gems?
The timing for this week's media on the logging threat was nicely punctuated by a new National Park Service report, highlighting the annual $34 million dollar economic contribution Crater Lake makes to surrounding communities (including 565 area jobs). Do you think people are coming from around the world to see Oregon's logging operations, or are they visiting our natural treasures?
The Crater Lake area needs serious, measured consideration by citizens' groups and elected officials. As Oregonians we have a responsibility to protect our last best wild places. Or we can continue business as usual, chipping away at our natural heritage. The Crater Lake region needs more Wilderness protection, not more chainsaws and bulldozers.