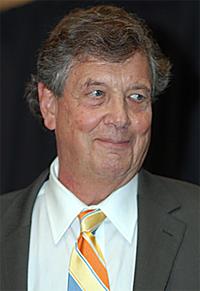 By Derek Humphrey of Los Angeles, California. Derek served as Governor John Kitzhaber's campaign manager in 2010 and worked on Congresswoman Darlene Hooley's final re-election campaign in 2006.
Blair Butterworth passed away last Friday after a lengthy battle with cancer. He was Washington state's first full-time campaign consultant, a pioneer whose work shaped the emerging industry and political landscape of the West Coast, including Oregon.
Well known for his booming voice and sharp tongue, the prominent Democratic consultant always seemed taller than his 6' 2 frame. He was responsible for the successful elections of Democratic Governors, Senators, Congressmen, and Mayors throughout the country, in addition to overseeing the passage of landmark ballot measure campaigns in numerous states.
The son of a foreign service officer, Blair was born in London in 1938 and spent a good portion of his childhood traveling the world. Following his graduation from Princeton University, he served abroad as a member of the inaugural class of the Peace Corps in 1961. He went on to work for the US Department of Commerce in the Johnson Administration before settling in Seattle.
In Washington, Blair helped re-elect both Warren Magnuson and Scoop Jackson to the US Senate. In 1976, he managed the gubernatorial campaign of long-shot Dixy Lee Ray, the state's first female Governor, and after her struggles in office, he famously managed the victorious campaign of her opponent in the 1980 Democratic Primary Election. Blair led the winning campaigns of Governor Gary Locke, Congressman Jim McDermott, Auditor Bob Graham, Insurance Commissioner Mike Kreidler, Superintendent of Public Instruction Judith Billings, Seattle Mayor Paul Schell, Tacoma Mayor Karen Vialle, and dozens of state legislators. Four years ago, he helped guide Washington's historic "Death with Dignity" campaign to victory.
In Oregon in 1984, Blair contributed to the efforts to elect future Governor Barbara Roberts to the office of Secretary of State, and two years later he oversaw Peter Defazio's first campaign for Congress. Over the last three decades he worked with many local operatives and officeholders, including gubernatorial advisor and consultant Patricia McCaig, former Oregon Secretary of State Bill Bradbury, Portland Mayor Charlie Hales and former Portland Mayor Sam Adams.
After arriving from Brooklyn in 1988, consultant Mark Wiener was recruited by Blair to run his first race in Oregon. Wiener recalled:
In attitude (although not in accent) he felt like a slice of home, looking at the world with a perpetually arched eyebrow. He was funny, profane and cut to the chase - qualities that may not be universally appreciated but that I love.

Over the years, our paths would cross; the last time during the 2012 campaign cycle. Over that nearly quarter century he never seemed to me to have aged - perhaps that is the way of things when you are aging at the same rate. But he certainly never dropped that arched eyebrow. And Blair never lost the sense of perspective: he always seemed to understand that - regardless of the campaign of the moment - it is a long race. It's just a pity his wasn't just a bit longer.
Blair is survived his wife, Celia Schorr and two sons, Chris and Parker. Parker served as one of the first staffers hired by Governor John Kitzhaber during his successful 2010 electoral campaign.
A public memorial service for Blair will be held on Sunday, April 21st at Town Hall Seattle, 1119 8th Ave, at 10:30am. In lieu of flowers, memorial gifts can be sent to Compassion & Choices of Washington (PO Box 61369 Seattle WA 98141).
More about the life of Blair Butterworth can be read here: