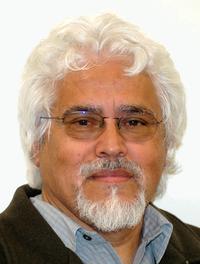 By Martin Gonzalez. Martin is co-chair of the Portland School Board and is running for re-election. He works as TriMet's Multicultural Programs Manager, was Executive Director of the Portland Schools Alliance, and worked for 18 years in leadership positions with the American Friends Service Committee.
As a child I remember my father buying and reading the newspaper daily. Little did I know then that neither he nor my mother knew how to read or write? He was probably looking at the pictures and comic strips, and I now know he was parenting by example. I became an avid reader, in part by watching my father. My first books were comic books.
When my son Felipe was still alive, I wanted him to teach his son the joy of reading. "M'hijo" – I told him – "There's a program called Juntos Aprendemos that supports parents to teach their children the importance of reading. You learn to read to them out loud and then they learn through you." He stated skeptically: "Oh – yeah, like you read to us?" He was right – I didn't read to my children, but I didn't know better. I learned what I observed from my own parents. I read to myself and gave my children books as presents. But I knew he could offer more than I did. As we walked down Alberta Street with his son, who was happily enjoying an ice cream cone, I continued to encourage and advise. I wanted my son and grandson to participate in the program to give the little one a better chance to succeed. Unfortunately Felipe was not able to enroll his son in Juntos. A tragic car accident took his life the next morning.
Our family considered Felipe to be a talented and caring individual – the most creative of all my children. But like many students in our educational system, he was neither challenged nor well served. He dropped out of Lincoln High School -- the best high school in our system at the time. Felipe remained "an enigma" to many of his teachers, even as he challenged some to reach new depth and passion in transmitting knowledge to a new generation.
It pains me that I cannot fix Felipe's experience with the school system. I cannot undo what went wrong for my son. But one of the reasons that I have dedicated nearly five years of my life to volunteer on the school board is that I believe I can make a difference in the lives of other children. From my work with the Portland Schools Alliance and my conversations with my son about the teachers he most respected, I know that there are dedicated and caring teachers and staff who do an outstanding job with diverse student populations. Yet there are others who struggle and must be supported.
As a school board member, I have spent the past few years supporting efforts to improve staff effectiveness in serving our diverse student populations. During my tenure, our graduation rates have gone up 10 percent, while the achievement for all students has increased and the gap has narrowed between students of color and White students. We have made investments in early childhood. We have a new teacher evaluation process that was developed jointly with the Portland Association of Teachers. We have made investments in a teacher mentor program to replicate the best practices of our master teachers. We continue to improve our services to Talented and Gifted, Special Education, and English Language Students. A long-range facilities plan was adopted by the board, and with voter approval, we have set in motion the modernization of our high schools.
In 2011, thanks to the work of staff and the leadership of my colleague Ruth Adkins and I, the board unanimously approved a Racial Educational Equity Policy. This policy now guides the focus of our investments to increase academic achievement. It is recognition by the school board that not all students have been served well. This policy, and the goals articulated in our Strategic Framework and Milestones, provide the road map to make sure that every one of our students regardless of race, ethnicity, national origin, or neighborhood receive the education they deserve. At a time when neither the federal nor state governments are adequately funding the needs of public education, these types of policies help guide our investment of precious resources.
I will not rest until 100 percent of our students are able to graduate from High School prepared to meet life decisions and career choices. I remain hopeful that this is achievable. Recent discussion with my colleagues regarding the budget decisions we must make this year give me confidence that we are on the road to making sure all our students have full schedules and the credits they need to graduate.
We have a long way to go. The work ahead requires that we continue to focus on the need of all students. As a board member my role is to hold district staff to the highest level of accountability while partnering on solutions to address long-standing inequities. I do this for the memory of my son, for my children and grandchildren who still attend PPS schools, and for our community children, all of whom are our most precious resource.