After a ten-day campaign, we've delivered 5272 petition signatures to our friends at KBOO, asking them to add Thom Hartmann to their broadcast lineup. The list of signers includes a number of well known community leaders, including state legislators and local elected officials.
We had signers from 29 of Oregon's 36 counties, plus 513 signers from Southwest Washington. Here's a map (click to zoom):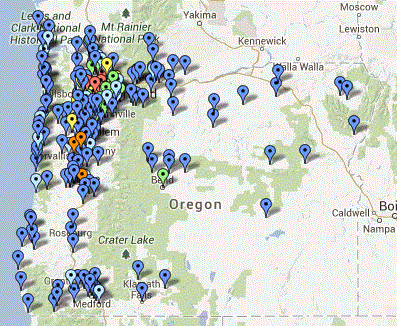 As we told KBOO:
We hope you'll accept this petition in the spirit that it is offered -- an enthusiastic "Yes, please!" to the news that KBOO is considering adding Thom to its lineup.

Since Clear Channel saw fit to unceremoniously kill the progressive talk format at KPOJ just three days after the election, hundreds of people have personally told me that they wished they could hear Thom Hartmann (and the rest of the old lineup) on terrestrial over-the-air radio in Portland. Digital-only just isn't the same.

We're hoping that adding Hartmann to KBOO will be both good for KBOO and good for the broader progressive community.
Of course, it's become clear in the comments here at BlueOregon that there are some KBOO supporters that oppose adding Thom to the lineup. At this point, we don't yet know what they are going to do. We'll keep you posted. As soon as we know, you will too.