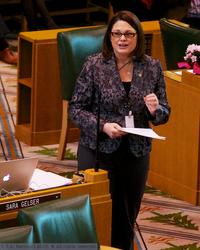 I got the word last night, and it's up on her website this morning: Sara Gelser is running for the Oregon State Senate. Here's her statement announcing her candidacy:
For nearly 8 years, it's been my privilege to serve as the State Representative from Philomath and Corvallis. When I first went to Salem in 2005, I promised to be an accessible leader that would deliver results for our community. I've worked hard to keep those promises, and now I'm ready to promise more. I want to expand my promise to the people of Albany, Tangent and Millersburg as the State Senator for Senate District 8. (SD 8 includes Corvallis, Philomath, Albany, Tangent, Millersburg, and portions of unincorporated Linn and Benton Counties.)

I'm running for the Senate because I believe in Oregon's bright future and the unique values we share here in the Mid-Valley. As your State Senator, I will be a strong advocate for our region, working every day alongside community leaders to grow jobs, strengthen our economy, bolster our public school system and help keep our communities safe.
This is great news for progressives across the state. For one thing, putting this seat into the hands of a proven Democratic leader will, if there are no swings elsewhere, give the Dems a 2-seat cushion in the Senate — and that eliminates the power of a single Senator to undermine her party. With that 2-seat advantage this spring, the Leg may well have passed the common sense gun legislation to close Oregon's gun sale loophole.
More importantly, Rep Gelser has proven to be the state's leading politician in protecting our most vulnerable citizens. In particular, her work for the disabled community, and especially those suffering mistreatment in our public schools, has been powerful and inspiring. She has stood up for women suffering from abuse, for intelligent laws dealing with critical issues, and for endlessly seeking common ground with those who think they oppose her. She'll be a great voice for her constituents and those whom she represents throughout the state on the floor of the Senate.
I know I'm pretty excited.
Help get her campaign off to a strong start by, as Kari likes to say, kicking a few bucks her way. Go to her website, click the "Donate" button, and give her the kind of thumbs-up that matters in a campaign: money. She'll need your support as she moves into a larger and more difficult race than she's faced before. Those of you who have told me how much you hope she runs: Prove it today.