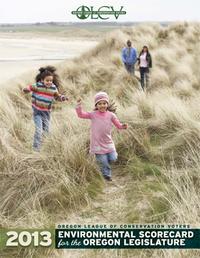 By Christy Splitt of Portland, Oregon. Christy is external affairs director and lobbyist for the Oregon League of Conservation Voters, a non-partisan organization with a simple mission: to pass laws that protect Oregon's environmental legacy, elect pro-environment candidates to office, and hold all of our elected officials accountable. She has worked on environmental issues in Salem since 2007.
For more than 40 years, OLCV has protected Oregon's natural legacy. An essential part of our work is holding our elected officials accountable. The OLCV Environmental Scorecard is not only one of our most important accountability tools, but also a tradition. The first scorecard was published in 1983 – and looked nothing like the slick, new digital scorecard we released yesterday.
In my conversations with Oregonians from all over the state, I hear a deep appreciation for Oregon's beauty. It feels like everyone knows it's a special place, and it's special because of our farms, our forests, our open spaces. But, then, in the Capitol, I lose that sense. I hear about how people in this area hate the land use system or people in that area don't care about wildlife – or worst of all, a fear of alienating the corporate lobby who are all-important in a state without donation limits.
Two weeks ago, some of you attended a City Club of Portland event highlighting the findings of the Oregon Values and Beliefs Project, some of which are highlighted below. As an environmental advocate, it was music to my ears – Oregonians value our natural legacy.
Unfortunately, the results of our Scorecard show that we have a long way to go to have a Legislature that matches the will of the people.
A 15-15 tie in the Senate on moving forward with Oregon's Clean Fuels Program, despite the fact that 57% of Oregonians think that we need more policies to reduce greenhouse gas emissions – and only 22% disagree.

Multiple attempts, two successful, to rollback our land use system, despite the fact that only 26% of Oregonians support new development outside of urban growth boundaries.

A whopping 40 legislators scored 50% or lower - 40 – despite the fact that when asked an open-ended question of what survey respondents most value about Oregon, 78% of the responses had to do with environmental attributes.
Earlier this week, Rep. Brent Barton told a room full of OLCV members that caring about Oregon's environment transcends party lines. He's right – we all have stories of the family farm, that time we went camping, that trip to the Coast, the amazing hike, and the view from atop the butte. Politicians love polling, and now we have some numbers to make the argument that Oregonians care deeply about Oregon's natural beauty. Hopefully that means that together, we transcend party lines to leave a better state for our children.
While we had some disappointing scores, we also had some awesome scores – and steadfast leadership that made it possible to adequately fund our natural resource agencies, limit suction dredge mining, protect habitat, and more – as well as fend off a whole scary slew of bills (some of which we covered in our scorecard's Bill Graveyard – just in time for Halloween).
Four legislators earned perfect scores – Senator Jackie Dingfelder and Representatives Michael Dembrow, Carolyn Tomei, and Ben Unger.
We named a Dynamic Duo – Reprentatives Alissa Keny-Guyer and Jason Conger, who worked together to pass a bipartisan toxics reduction bill through the House. Unfortunately, that bill died in the Senate.
We gave the Perseverance Award to two legislators that brought issues from their backyard to the Capitol and fought like heck to solve them – Representative Shemia Fagan, who worked tirelessly to get funding for sidewalk funding in East Portland , and Senator Alan Bates, who beat the odds to protect his beloved Southern Oregon waterways from a sudden increase in suction dredge mining.
We said thank you to Governor John Kitzhaber and his staff, who are often partners in our efforts and with whom we shared our biggest wins of 2013.
And we were thrilled to honor two "short-timers" in the Legislature: Senator Jackie Dingfelder and Representative Jules Bailey. Senator Dingfelder, as a line in our scorecard says, "would easily be the Environmental Leader of the Decade." She matches an unparalleled depth and breadth of knowledge with a passionate belief in both our existing environmental protections and the need to take aggressive steps forward to address climate change. She is our 2013 Watchdog of the Year, and we can't wait to watch her shake up City Hall.
And (drumroll please) the biggest award for last - Representative Jules Bailey is our 2013 Environmental Leader of the Year! His leadership on energy issues has been unrivaled, and his political savvy has made him among the most effective and productive legislators we have ever seen. Having him on our side, especially with his colleagues and with those across the aisle, has been an asset we will surely miss in the House.
As OLCV prepares for the short session, election, and full session ahead, we will keep the lessons of this scorecard in mind. We hope that you will, too, because I bet we all agree that problems like climate change and exposure to toxic chemicals in air, water, and toys need to be addressed NOW, not later. We will need your help to make powerful legislation happen.
One small way you can make a difference? Check out your legislators' scores and write them a quick note to say thank you – or no thank you –for their votes this year.