By Steve Pedery and Tommy Hough of Portland, Oregon. Steve is the Conservation Director at Oregon Wild, and previously served as an outreach director for WaterWatch of Oregon and a lobbyist and communications specialist with the Sierra Club in Washington, DC.
Tommy Hough is a Communications and Outreach Associate with Oregon Wild. Tommy also served as Communications Coordinator for the San Diego County chapter of the Surfrider Foundation, and on former California Assemblywoman Lori Saldaña's U.S. House campaign. Tommy can also be heard weekends on 101.9 KINK-FM in Portland.
The government shutdown has certainly forced Oregonians to pay more attention to the terrible budget ideas coming out of the U.S. House of Representatives. But here in Oregon on the same day the Tea Party forced their federal government shutdown, nearly 200 Oregonians braved a ferocious rainstorm to draw attention to another terrible idea coming out of the House—a cynical bill that exploits the budget crisis facing some rural counties to ram through a plan which would privatize millions of acres of public lands.
Rally attendees, some of whom drove from as far away as Pendleton, Myrtle Creek, and Roseburg, gathered across the street from U.S. Senator Ron Wyden's office to show their opposition to any plan to bail out counties by clearcutting public lands, and to urge Sen. Wyden to stand up for clean water, salmon, and Oregon's growing tourism and recreation economy.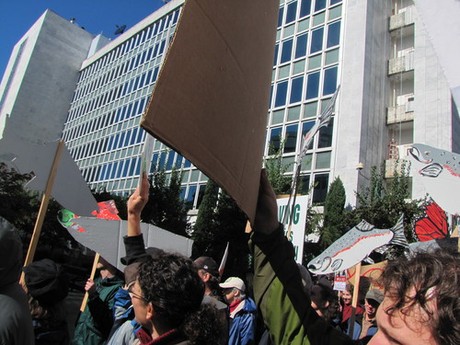 It's been a while since conservationists and citizen activists took to the street in large numbers over forest policy and public lands. Huge rallies occurred in Pioneer Courthouse Square in the early 90s, but President Clinton's adoption of the Northwest Forest Plan in 1994 left most Oregonians feeling the timber wars had been resolved (and that salmon, clean water, and future generations won). Unfortunately, the debate over how to fund some county governments faced with the end of federal subsidies, coupled with local residents unwilling to pay for government services, has breathed new life into some very bad ideas.
The House Republican leadership, together with their backers in the oil, logging, and coal industries, has sought to exploit the funding crisis facing some county governments to push through a massive change in how America's public lands are managed. Their bill, HR 1526, would transfer millions of acres of National Forests into "Forest Reserve Revenue Areas" so they can be managed exclusively for logging, mining, drilling and other destructive development. Worse, the legislation severely restricts the rights of Americans to have a voice in how their own public lands are managed, and circumvents federal laws such as the Endangered Species Act and Clean Water Act.
If this sounds familiar, it should. A similar proposal by Oregon Reps. Greg Walden, Peter DeFazio, and Kurt Schrader to create a quasi-private "Timber Trust" mirrors the larger Republican bill. Their proposal would transfer 1.6 million acres of public forest land in Western Oregon into a "logging trust" with weakened environmental safeguards, and the goal of aggressively logging the O&C lands to generate revenue for county budgets. At DeFazio's request, this proposal was added to HR 1526 before it passed the U.S. House of Representatives in September.
Despite the fact the bill almost immediately drew a veto threat from President Obama, here in Oregon the logging industry and some rural county politicians are pressuring Sen. Wyden to back a clearcutting plan for Western Oregon public lands. Counties faced with the end of federal subsidies, and a local population unwilling to pay for local government services, see a return to 1980s-style logging – with county governments receiving a large share of the revenue – as a silver bullet for local funding woes.
The pickle facing the senator was captured in the iconic image of the rally, a poster of Sen. Wyden flanked on one side by a clearcut, and on the other by salmon, rivers, and forests, asking "which future will he choose?"
While the sun came out in time for the rally to pick up and march from Holladay Park to the federal building and the Portland office of Sen. Wyden, the federal building was largely vacant on the first day of the government shutdown. Essential Wyden staffers were in the office, however, and the view from the sixth floor would have clearly shown hundreds of Oregonians once again willing to gather in the rain to oppose unsustainable logging in our state. No doubt the view also demonstrated the idea of using clearcuts to bail out county budgets is going to be a hard sell to most Oregonians.